Spotify Gets Aggressive With Data Collection
Because you're thirsty for music, and music's thirsty for ad revenue.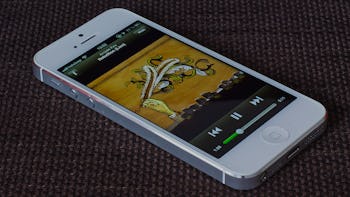 Flickr.com/Björn Olsson
iTunes killer and Kendrick Lamar streaming service, Spotify, recently updated its mobile terms and conditions. It will now have the option to collect GPS data and information regarding contacts. Spotify told Forbes that the "data accessed simply helps us to tailor improved experiences to our users, and build new and personalised products for the future." Somewhat understandably, Forbes wrote that it was "real creepy." But what's happening beyond the typical hackle-raising data harvesting cycle?
Spotify could be attempting to improve its service by making it more location dependent — suggesting some road-rage relaxing slow jams for your prime time commute. But the service likely cares considerably more about where you live than where you are because ticket sales would be a natural monetization move. Spotify is essentially asking its users to compromise their privacy in return for an excellent service. Creepy or no, that's pretty par for the course: Google has been tracking your location at least since 2013, and Pandora wants to know how old you are.
Here's the language from Spotify:
When you use or interact with the Service, we may use a variety of technologies that collect information about how the Service is accessed and used. This information may include:
#1. information about your type of subscription and your interactions with the Service, such as interactions with songs, playlists, other audiovisual content, other Spotify users, Third Party Applications, and advertising, products, and services which are offered, linked to, or made available on or through the Service;
#2. the details of the queries you make and the date and time of your request;
#3. User Content (as defined in the Terms and Conditions of Use) you post to the Service including messages you send and/or receive via the Service;
#4. voice commands (if you've opted in to share that with us); and,
#5. technical data, which may include URL information, cookie data, your IP address, the types of devices you are using to access or connect to the Spotify Service, unique device ID, device attributes, network connection type (e.g., WiFi, 3G, LTE) and provider, network and device performance, browser type, language, information enabling digital rights management, operating system, and Spotify application version.
And here is Facebook's device policy:
We collect information from or about the computers, phones, or other devices where you install or access our Services, depending on the permissions you've granted. We may associate the information we collect from your different devices, which helps us provide consistent Services across your devices. Here are some examples of the information we collect:
Attributes such as the operating system, hardware version, device settings, file and software names and types, battery and signal strength, and device identifiers.
Device locations, including specific geographic locations, such as through GPS, Bluetooth, or WiFi signals.
Connection information such as the name of your mobile operator or ISP, browser type, language and time zone, mobile phone number and IP address.
The language is profoundly similar and the reality is clear. We live in a post-Ashley Madison hack world, where privacy on the internet is all but a contradiction in terms. That doesn't mean that privacy is "no longer" a social norm, despite Mark Zuckerberg's assertions to the contrary, just that personal data is good for haggling with service providers. Spotify is no more sinister than your local greengrocer. Both of them know where you live, and they both want to sell you something.