Inverse Daily: Don't call the Cybertruck brutal
The Cybertruck is bold, but one of America's leading brutalism experts says that's not enough to earn the term.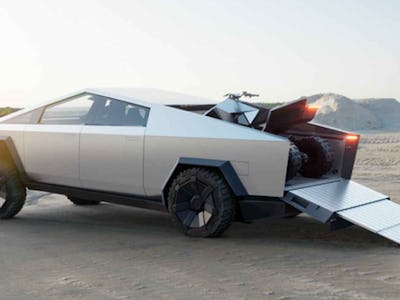 Good Monday morning. Today, December 9, 2019, marks the 40th anniversary of the confirmed eradication of smallpox, and these historical photographs show how the infectious disease — which was endemic in Africa and Asia as recently as the 1960s — was fought around the globe.
One lasting image — warning, it is graphic — shows two boys, both exposed to the same smallpox source. One was not vaccinated and the other was. (See the photo here.) The disease killed 300 million people — nearly the population of the entire United States — in the 20th century, according to the BBC.
Thanks to scientific research, the vaccine was developed and smallpox has been eliminated, but these pro-vaccination posters vividly show how urgent the thread was not that long ago.
I'm Nick Lucchesi, executive editor at Inverse, and this is Inverse Daily. Let's get into the stories of the day.
This article is an adapted version of the Inverse Daily newsletter. Subscribe for free and earn rewards for reading every day.
INVERSE QUOTE OF THE DAY
"Research indicates that almost two-thirds of adolescents who smoke blunts also report using cigars."
— University of Pennsylvania researcher Janet Audrain-McGovern.
Just don't call it brutal
Elon Musk said that his company Tesla's Cybertruck would look like nothing else on the market, and both his critics and fans can agree on one thing: promise kept.
The truck has earned cheers and jeers, but amidst all the commotion, one word has come up again and again and again in describing its design: brutalism.
Associations with the term have given the truck an air of intellectual daring, but according to one of America's leading brutalism experts, that's not enough to earn the term.
More Cybertruck:
All hail coffee rat
He's a true New Yorker. A viral video shows an adorable rat hurrying along, carrying a cup of coffee on a NYC subway platform.
He's also an important reminder of all the amazing things scientists have been able to learn about caffeine's effects on the body — all thanks to rats.
Here's a roundup of five studies that wouldn't have been possible without rat research. Coffee rats in labs everywhere, we raise our to-go cups to you!
More sweet news:
We're no aficionados
People who "only smoke weed" might be surprised how quickly that can transition to a worse habit, especially if you're into blunts.
A new study finds that teens who smoked blunts were 22 times more likely to start smoking cigars compared to teens who didn't smoke at all.
Not very many teens smoke cigars to start. The latest CDC numbers show that only 7.6 percent of teens smoked cigars in 2019. That's more than the percentage of teens who smoked cigarettes but far less than the amount who vaped. In 2019, 27.5 percent of high school students vaped, and it's still the most popular way teens consume nicotine.
But for those who smoke cigars, it seems like there's a tight connection to smoking blunts. That could be explained by the enticing flavors of cigars, the scientists argue. But it could also be explained by the idea that there's enough nicotine in a cigar wrapper that could spark a dependency on tobacco — something that teens who smoke blunts may not be expecting.
Related stories:
Mic Check
Like you, we spend a lot of time on the internet. We also spend a lot of time managing the stress that comes with staying informed.
Mic Check is a place where we can work through what's happening in the world together, and have a little fun in the process.
For a daily morning brief on politics and culture, sign up here →
Photo: NASA's seal with a hat
A seal is just one example of the many animal sidekicks that scientific researchers rely on to gather crucial data about our world. Some, like the seal in this new story, provide insight into how our oceans change as the climate changes. Others collect and feed back data on land. All of them are giving humans a far richer picture of the way the climate influences the Earth.
All of which is to say, an elephant seal photographed on Kerguelen Islands, a French territory in the Antarctic, has captured our hearts.
Elephant seals are tagged with sensors and antennas — glued to the seals' heads — when the animals come ashore either to breed or to molt. The researchers remove the tags to retrieve their data when the seals return to land. If they miss a tag, it drops off with the dead skin in the next molting season.
See the photo and read the story →
More seal stories:
Here's the truth
Whether in spas, dermatology offices, or home bathrooms, people happily put all sorts of weird stuff on their face in a never-ending quest for better skin.
There's the Hollywood EGF facial, or "penis facial," which uses an epidermal growth factor serum derived from the cells in the foreskin of circumcised Korean newborns (yep). Then, there's the "vampire facial," which uses a client's own blood to isolate another growth factor, platelet-rich plasma, and spread the blood serum across the face. There's even a "urine facial," in which people slather their own urine on their face as toner, or as a treatment for acne.
We asked an expert: When it comes to good skincare, there are no shortcuts.
Related stories:
Today's good thing
Researchers at Brown University have reported that mindfulness may be useful to lower blood pressure.
Mindfulness was defined by the researchers as "paying attention, on purpose, in the present moment, nonjudgmentally."
A recently published study found that 43 participants with high blood pressure used mindfulness techniques — among other strategies — to help lower it after a year's time. Read more about the study in this announcement from Brown.
Meanwhile …
Inverse Loot
Subscribe to Inverse Loot and learn about these deals first.
That's all for today!
Thank you for reading, and if you have a suggestion for how to make this newsletter better, drop me a line at nick@inverse.com. And follow me on Twitter, where I retweet the best of Inverse every day.