Tesla Cybertruck: 10 fan concepts reimagine Elon Musk's bold EV design
Musk has already given the thumbs-up to one idea.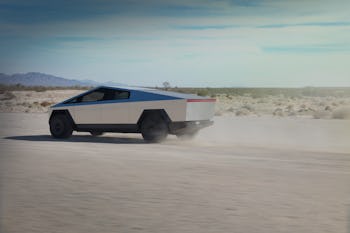 Tesla
The Tesla Cybertruck offers a unique design, but some fans think it could go further.
No sooner had CEO Elon Musk taken the wraps off the unique-looking all-electric car last week, followers got to work reimagining how the design could be changed to suit new ideas.
The $39,900 car, set to enter production in late 2021, is part of a three-pronged plan to bring electric cars to the mass market that also includes the Model 3 sedan and the Model Y compact SUV. Tesla has already racked up over 200,000 deposits for the vehicle, but analyst Gene Munster told Inverse in August he only expects the Cybertruck to account for around five percent of the company's total output.
After the unveiling, Musk already mentioned some optional extras that will be available. Tesla will offer an all-terrain vehicle, all-electric, that can plug into the rear of the Cybertruck. A picnic option will turn it into a better camping facility. Solar panels on the rear could add over 15 miles of range per day.
Fans have weighed in with their own suggestions, and it seems Musk may already be receptive to some of these ideas. On November 23, he seemingly confirmed that the Cybertruck could come in a matte black option:
Here are some of the other tweaks Tesla could consider.
10. Black with blue lights
Instagrammer "achilles_is_here" has produced a 3D rendering of the new truck that swaps out the steel shimmer for a black paint job, plus opting for blue lights instead of the white.
9. Red option
Reddit user "Careless_Gamer" shared this concept of a red-colored Cybertruck.
8. Other color options
Instagram account "tesla_official" has produced a series of alternate color options that could make the car stand out. Green Cybertruck, anyone?
7. A tweaked tailgate?
A Reddit user called "Finrecon" switched the rear colors to create greater contrast with the rest of the body.
6. Camo option
Another Reddit user called "_a_flo" shared this image of a camo-themed back section.
5. Six-wheeler
Could the Cybertruck do with a bit more room? Instagrammer "v.n.c._media" thinks so.
4. Low down?
Instagram user "teslamotorscars" shared this image of a more street-focused Cybertruck.
3. Police car
Dubai Police shared this image via Twitter on November 26 of what a Cybertruck kitted out like one of their vehicles may look like.
2. Batman's Cybertruck
The original Cybertruck may have taken inspiration from Blade Runner, but this design from Reddit user "Stubzzz_" focuses on The Dark Knight.
1. Lego
The official Lego Twitter account shared this tongue-in-cheek design Wednesday of a brick-shaped Cybertruck — deeming it "guaranteed shatterproof."
With an ATV on the way, never say never to a Lego Tesla…