Tesla Cybertruck will be firm's first solar car, Elon Musk confirms
The Tesla CEO once derided solar cars. It seems he's changed his mind, at least partially.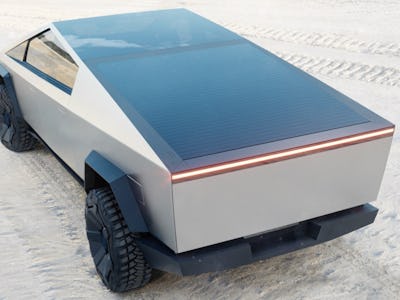 Tesla
The Tesla Cybertruck will be the company's first electric vehicle to offer solar panels as an option, Elon Musk confirmed Friday. The Tesla CEO revealed that the all-electric pickup truck, announced Thursday, will offer the option to add the panels to add more range to the battery.
On Twitter Friday, Musk wrote:
Will be an option to add solar power that generates 15 miles per day, possibly more. Would love this to be self-powered. Adding fold out solar wings would generate 30 to 40 miles per day. Avg miles per day in US is 30.
It's a big step for the company, which has historically shunned adding panels directly onto the car. Musk has previously dismissed panels as offering little benefit versus placing panels on the roof of a house. But competitors like Sono Motors and Lightyear have announced vehicles that could cover the average commute entirely on sunlight, suggesting that panels on the car could hold value.
Tesla Cybertruck solar: how does it compare to other cars?
Tesla offers the Cybertruck in three configurations:
$39,900: Single-motor rear-wheel drive with over 250 miles of range, over 7,500 pounds of towing capacity, and 0 to 60 mph in less than 6.5 seconds.
$49,900: Dual-motor all-wheel drive with over 300 miles of range, over 10,000 pounds of towing capacity, and 0 to 60 mph in less than 4.5 seconds.
$69,900: Tri-motor all-wheel drive with over 500 miles of range, over 14,000 pounds of towing capacity, and 0 to 60 mph in less than 2.9 seconds.
Beyond these models, Tesla has so far confirmed three optional extras: full self-driving at a cost of $7,000, an all-terrain vehicle with an unknown price, and now the solar addition. Production is set to start in late 2021.
Musk claims the solar shade will add 15 miles per day. By comparison, the €25,000 Sono Motors' Sion offers 158 miles on a full charge and can add around 21 miles of charge per day. The €149,000 Lightyear One can travel 450 miles on one charge and adds 7.5 miles per hour with its solar array.
Adding solar panels is something of a turnaround for Musk, who previously dismissed the idea. At the National Governors Association meeting in Rhode Island in July 2017, Musk suggested that panels on the cars are less helpful than on the home.
"Putting solar panels on the car itself?" Musk asked. "Not that helpful, because the actual surface of the car is not that much, and cars are often inside. The least efficient place to put solar is on the car."
Tesla offers a selection of home-based solar products, a product line that came to fruition with Tesla's purchase of SolarCity in late 2016. In October of that year, Musk unveiled a "house of the future" with a Tesla Model 3 charging in the garage, a Powerwall battery, and a Solar Roof completing the transition to zero-emissions energy in the home.
The company started installing the roof in the spring of 2018, but installations were limited. In March 2019, Musk declared that Tesla would focus more on solar products now Model 3 production had scaled up. This year it's rolled out a retrofit solar option where users can rent on a monthly basis. It's also rolled out a third-generation Solar Roof, which the firm claims costs less than a new roof plus solar and also enables faster installation times. The company's third-generation supercharging system is also expected to enable the rollout of solar canopies, so users can charge their car from sunlight at up to 250 kilowatts.
With solar also coming to the Cybertruck, it seems Tesla is looking to get solar into more places than ever before.