Musk Reads: Tesla Solar Roof V3 arrives
Tesla Solar Roof gets a redesign; the Model Y is launching sooner than expected; and the Model S takes on the Porsche Taycan.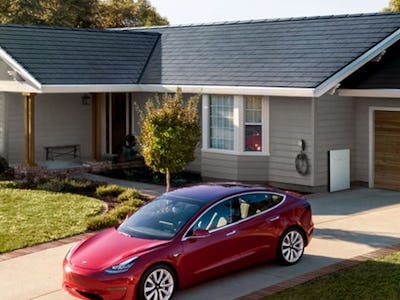 Tesla Solar Roof gets a redesign; the Model Y is launching sooner than expected; and the Model S takes on the Porsche Taycan. It's Musk Reads: Tesla Edition #117.
A version of this article appeared in the "Musk Reads" newsletter. Sign up for free here.
Musk quote of the week
"If you have autonav enabled, car will automatically navigate either to address in calendar, to work if you're home & to home if at work. Not sure if that's in wide release yet, but def in early access. It's an awesome feature."
Tesla
Tesla has an ambitious timeline to roll out its full self-driving Tesla. During the company's most recent earnings call, Musk claimed that an improved version of Smart Summon would launch in the coming weeks. This would be followed by a feature-complete Autopilot by the end of 2019 at the earliest, meaning the car would be able to handle intermediate-speed driving situations. This is in addition to Smart Summon, which handles low-speed driving and highway-based Autopilot that covers higher speeds. Musk also claims that Tesla's Uber-like robo-taxi service could still reach a feature-complete state as early as next year. Read more.
Other things we learned from the call:
Musk considers the Model S and X as "niche…expensive" products that are still in production mostly for "sentimental" reasons.
The Model S, X, and 3 are set to receive a software update that brings five percent power boosts, faster supercharging, and single-pedal driving that will improve the range.
But could Tesla lose its crown as the number one electric car seller? UBS autos analyst Patrick Hummel claimed this week that Volkswagen could claim the top spot by 2025, as the company plans to produce 1 million electric cars by 2022. Volkswagen, which was at the center of an emissions cheating scandal just four years ago, is planning to spend $33.24 billion to move further into e-mobility by 2023. Read more.
INPUT
Can we offer you some Input? You're a few clicks away from getting the best tech reporting on the internet – delivered directly to your inbox.
Tesla solar
Tesla unleashed its third-generation solar tiles over the weekend. The new tiles, debuting after extensive tests, are larger, redesigned, easier to install, and it's now harder to spot the solar elements. The company is planning to work with third-party roof installers to offer eight-hour install times — a marked difference from the electric car aspect of the business, where Tesla does not work with third-party dealerships.
The tiles are also expected to be cheaper. Independent analysis from Electrek showed that a 9.45-kilowatt roof measuring 1,862 square feet would have costed $64,634 under the second-generation pricing but has now dropped to $38,266. Once the Powerwall battery and repairs are factored in, the price difference is $85,000 for the old roof and $54,866 for the new model. Musk claims the new prices undercut the cost of a new roof plus solar.
Will it be enough? Tesla is expected to install them everywhere it offers the solar retrofit tiles instead of the small-scale approach employed since last spring. But the company is also advising consumers that buying the solar roof might not be right for them, especially if they have no need to replace their roof. Whether it will see widespread adoption or not, the solar roof remains one of Tesla's most intriguing products. Read more.
What's next for Tesla: Tesla is expected to roll out a software update in the coming weeks for the Model S, X, and 3 that will bring single-pedal driving for greater range, faster supercharging, and five percent greater power.
In other Musk news
Musk has pledged to support the Team Trees project, which aims to plant 20 million trees worldwide by January 1, 2020. The site takes donations for $1 per tree. Musk has pledged to donate 1 million trees to the project and has changed his Twitter name to "Treelon." Following the donation, Twitter CEO Jack Dorsey pledged a further 150,000 trees.
The project started in May 2019 when YouTube users pressed "MrBeast" to plant 20 million trees to celebrate reaching 20 million subscribers. So far it has planted 8,258,188 trees. The project works with the Arbor Day Foundation to bring the trees to life.
Musk Reads mailroom
Onward Dealey writes:
"It's been over 15 years since a Swedish company introduced an automatic fueling system for city buses with no attendant necessary. The fueling point on the bus had only to get within about a half meter and a sensor brought the filler nozzle to and into the tank with sensors sensing full. Seems to me electric would be easier."
You may be thinking of the Tankomatic system, covered in a New Scientist article from 1990. The robot, created by a firm called Transrobot near Stockholm, automatically inserted the nozzle into the gas tank for the driver. The firm also developed a modified version for buses.
Electric may perhaps be easier. Tesla previously demonstrated a robotic charging arm for the Model S. As well as enabling autonomous cars to complete their journey without any humans, it would also help protect users who want to disconnect and drive away without leaving their car.
Tankomatic used airtight seals to keep in the vapors and would stop if anyone tried to tamper mid-pump. With electric, neither of these would be such pressing concerns.
Got any comments or queries? Don't forget to send them over to muskreads@inverse.com.
Video of the week
Top Gear goes hands-on with the Tesla Model S Performance versus the Porsche Taycan Turbo S.
The Elonporium
Subscribe to Inverse Loot and learn about these deals first.
The ultra-fine print
This has been Musk Reads: Tesla Edition #117, the weekly rundown of essential reading about futurist and entrepreneur Elon Musk. I'm Mike Brown, an innovation journalist for Inverse.
Sponsor Musk Reads and get your business in front of a brainy, curious audience that's motivated to make the world a little better tomorrow. advertising@inverse.com.
A version of this article appeared in the "Musk Reads" newsletter. Sign up for free here.