Musk Reads: Tesla's "most viral feature ever" arrives
Tesla software 10.0 has arrived; the third-generation Supercharger gets its first big rollout; and Tesla helps to fly the SpaceX Starship.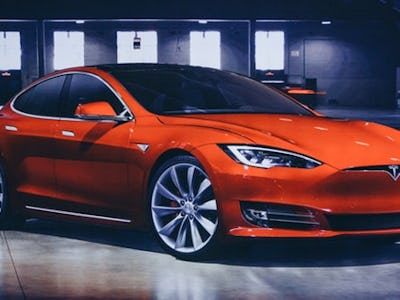 Tesla software 10.0 has arrived; the third-generation Supercharger gets its first big rollout; and Tesla helps to fly the SpaceX Starship. It's Musk Reads: Tesla Edition #109.
A version of this article appeared in the "Musk Reads" newsletter. Sign up for free here.
Musk quote of the week
"Probably our most viral feature ever. Most of the Autopilot team has been working on this, led by Ashok, CJ, Andrej & many others."
Tesla
Tesla cars could come with smarter seats with temperature controls. Electrek reports that the company has filed a patent for a seat that offers "a low-cost, low-noise, power-efficient, and effective method for cooling and/or heating." It comes just one month after Tesla filed a patent for an electromagnetic wiper that sweeps across the windshield with a single blade.
The Autopilot team got a big boost this week when Tesla acquired computer vision startup DeepScale. The firm's technology is designed to work with low-wattage processors. It comes after a report this summer that 11 engineers left the Autopilot team. Tesla is planning a full self-driving update that could power a fleet of robo-taxis as early as next year.
Tesla solar
Could solar one day come to Tesla's electric vehicles? CNBC reported last week that Hyundai and Toyota are both adding solar panels to selected hybrid models, the latter expecting to add up to 30 miles of range. The Sono Motors Sion and Lightyear One also boast panels for its all-electric cars, allowing workers to commute on sunlight. Musk dismissed the idea in 2017 as "not that helpful."
Your guide to emerging tech
From AI and robotics to facial recognition and flying cars, Emerging Tech Brew is a free newsletter that keeps you up to speed on the technologies shaping our future. Check it out.
Tesla and SpaceX
Tesla batteries are helping to fly SpaceX's Starship. Eagle-eyed fans spotted an object that looked similar to the Model S and X battery pack being loaded into the prototype of SpaceX's rocket, designed to send the first humans to Mars. It's the latest sign of Tesla and SpaceX working together and leveraging their complementary technologies, but there's perhaps a more obvious reason for the collaboration — "It would be pretty embarrassing to use a non-Tesla battery," Musk wrote on Twitter. Read more.
In other Mars mission news, Musk suggested at SpaceX's Saturday press conference that a Tesla could one day drive on Mars. Responding to an audience question, Musk contrasted the electric motor with an internal combustion engine that may struggle in the Martian atmosphere. Musk said little about whether the higher radiation could cause problems. It wouldn't be the first Tesla to leave the Earth after Musk launched his own red Roadster on the test flight for the Falcon Heavy in February 2018. The website "Where is Starman" has been tracking the voyage since its launch. Read more.
What's next for Tesla: Tesla's third-generation Superchargers are rolling out across the Trans-Canada highway, the company told The Verge. Of the 46 charging stations being built along the road, 26 are expected to be the 250-kilowatt chargers designed to add 75 miles of range in just five minutes. The new chargers, unveiled in March, could help fuel a full transition to solar-powered public chargers.
Musk Reads mailroom
Jim Coleman writes:
Manufacturers should consider aftermarket changes to see what people are looking for. There is the need for an E-van that's wide enough for a bed to go across.
Tesla is already working on the Pickup Truck and Semi Truck, but could the company launch a van as well? Tesla held talks with Mercedes-Benz in February 2019, four months after Musk expressed interest in working with the firm on an electric Sprinter. Tesla currently uses non-electric vans for its mobile services. Mercedes has been demonstrating its own electric Sprinter with a 90-mile range in icy conditions. It's unclear, however, whether the February talks resulted in any new agreements.
For now, users will have to stick with placing a thin bed inside one of the existing vehicles.
Got any comments or queries? Don't forget to send them over to muskreads@inverse.com.
Video of the week
Introducing Software Version 10.0
The Elonporium
Subscribe to Inverse Loot and learn about these deals first.
The ultra-fine print
This has been Musk Reads: Tesla Edition #109, the weekly rundown of essential reading about futurist and entrepreneur Elon Musk. I'm Mike Brown, an innovation journalist for Inverse.
Sponsor Musk Reads and get your business in front of a brainy, curious audience that's motivated to make the world a little better tomorrow. advertising@inverse.com.
A version of this article appeared in the "Musk Reads" newsletter. Sign up for free here.