The 5 Best Portable Smart Speakers
You're going to need a smart speaker that's travel-friendly.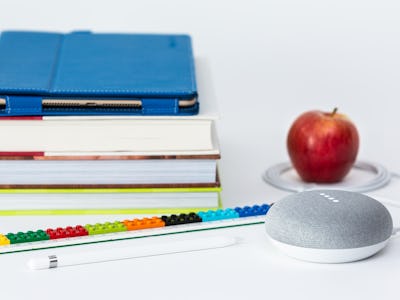 Unsplash / Thomas Kolnowski
Smart speakers are all the rage these days and for good reason. Being able to seamlessly control other devices in your home, or change channels and stations without having to get up from your couch is a pretty enticing offer. But with so many options available on the market, it can be hard to decide on the right one for your home. Well, stress no more. We've rounded up some of the best-selling portable smart speakers. Meaning you can take your voice assistance with you without lugging something heavy.
Of course, if you're obsessed with Alexa and a truly independent smart speaker, start your search with the third-generation Echo Dot. This budget-friendly option comes with Alexa and can be used to pair with various smart devices throughout your home including your thermostat, sink, oven, and the ability to pair with other smart systems from brands like Philips and Bose to name a few. The Echo Dot also works with a variety of apps including Spotify, Pandora, and even Apple's iTunes. The small size makes this a very travel-friendly option. Meanwhile, the improved speaker over the second generation model ensures that you're getting the best quality in sound.
Not everyone wants an Echo Dot. Whatever your reasons, you might be in the market for an alternative option. The OontZ Angle 3 is the third generation of a Bluetooth speaker that's enhanced to also work with Alexa. With this model, the focus is more on high-quality sound, rich bass, and an unobstructed long-distance range of 100 feet between your connected device and the speaker. The angular speaker comes in seven colors to suit your style. And most importantly, it is compatible with Echo speakers. Other nice features include water resistance, auxiliary jacks so you can boost sound from your television, and a playback time of up to 14 hours between full charges.
Sonos is a popular name when it comes to speakers and audio playback. The brand is best known for its traditional speakers and soundbars. But now the company also has a compact wireless speaker, the Play:1, that pairs nicely with the Amazon Echo. A nice feature of this speaker is that you can control it from your smartphone with the proprietary Sonos app. You can also pair two Play:1 speakers in the same room to create stereo sound. Or use your wifi connection to pair various Play:1 speakers throughout your house for simultaneous playback. While you can pair it with the Echo smart speaker, if you have an Amazon Firestick, you can also use Alexa to control the Sonos Play:1
If for some reason you think that the Echo Dot is just too rich for your blood, the Eufy Genie Wi-Fi speaker is a true budget-focused smart speaker. This speaker comes standard with Amazon Alexa built into it. Play music through Amazon supported platforms or use Apple AirPlay to listen to music from your Apple devices. Just like the Echo Dot, thanks to its Alexa integration the Eufy speaker can be used to control other connected devices throughout your home and works seamlessly with various apps. And the small size makes this a truly portable smart speaker. The Eufy Genie Wi-Fi speaker is a great Echo Dot alternative because Alexa is built into it — removing any integration and setup issues you could face with other third-party smart speakers.
Maybe you're looking for a sleeker smart speaker that adds a bit of style to your overall home decor. If so, the Cowin DiDa Bluetooth speaker with Amazon Alexa is a great choice. The speaker is competitively priced to Amazon's Echo Dot, yet is Amazon certified so it comes standard with Alexa. This means setup is painless and you don't have to deal with integration issues. Because of this, it also pairs seamlessly with connected home devices, various apps for music playback and other activities, as well as any Bluetooth-based device such as your smartphones. Best of all, you can control the speaker through the proprietary Cowin app.