Tesla could lose its electric car top spot by 2025, analyst claims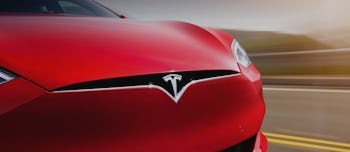 Tesla
Tesla held the top spot in global electric car sales last year, but will it last?
That's the question on lips as Volkswagen prepares to ramp up its electric vehicle production efforts. The automaker is aiming to produce one million electric cars per year by 2022, more than the near-790,000 Tesla vehicles ever delivered in the company's history. UBS autos analyst Patrick Hummel went as far as to tell Reuters Monday that, by 2025, the Volkswagen Group will be the number one global electric vehicle producer, while Tesla stays as a niche automaker.
It's a bold claim, particularly as Tesla ramps up production and prepares to launch new features for its existing fleet. The company is planning to launch the Model Y compact SUV, second-generation Roadster, Semi truck and a Pickup Truck in the coming years. It's set to launch a feature-complete version of its autonomous driving system for cars produced after October 2016, paving the way for a robot taxi service that could take on the likes of Uber. It's even floated the prospect of bringing more of the battery production process into its company, streamlining the process and possibly unlocking batteries with even better density.
Nonetheless, the electric vehicle future for Volkswagen — which just four years ago was at the heart of an emissions cheating scandal — looks particularly bright. Here's how the company is planning to become a big player in the space.
Volkswagen: how it's preparing for the electric car future
Volkswagen is planning a broad production strategy. Reuters noted on Monday that the company is aiming to spend $33.24 billion to push into e-mobility by 2023.
Part of this push involves retooling eight international factories by 2022. Two factories in China, joint partnerships based in Foshan and Anting, are set to start producing cars next year. Two plants in Germany, Hanover and Zwickau, are also being converted to produce electric vehicles. Other facilities receiving a retooling include Dresden and Emden in Germany and Mlada Boleslav in the Czech Republic. It also plans to produce cars at its Chattanooga, Tennessee facility as part of an $800 million investment plan that will support over 1,000 new jobs.
The centerpiece of this strategy is the MEB, the electric vehicle platforms that the company hopes could push down electric car prices to around $22,000. The Tesla Model 3, the cheapest electric car the firm makes, starts at $35,000. Volkswagen plans to use it for its own vehicles and offer platforms to Porsche, Audi, Seat and Skoda.
The MEB is expected to be used in the Volkswagen "ID" series of vehicles. This includes the ID Roomzz, an autonomous electric sports utility vehicle that will hit roads in China by 2021.
It also includes the new ID.3, which aims to be completely carbon dioxide-neutral in its entire lifespan. It's set to offer either 206 or 312 miles of range when production starts in November.
Will it be enough? Volkswagen claims it can reach production of up to 22 million electric vehicles by 2028, 11.6 million of which come from China. But as Volkswagen pushes to ramp up production on its nascent electric vehicle business, Tesla is looking beyond its current model of selling cars to consumers and using its existing fleet to lay the groundwork for a broader electric mobility firm.
But even if Tesla manages to successfully launch its autonomous taxi service next year, Volkswagen may not be far behind. Moia, a shared mobility firm under the Volkswagen brand launched in December 2016, is also aiming to offer shared mobility within cities. Ole Harms, then Moia CEO, told Inverse at the launch in December 2016 that Moia was aiming to start operating a small fleet of autonomous cars by 2021.
The race for the next generation of mobility is on.