Musk Reads: Tesla Model Y prototype fuels early rumors
Model Y could enter production sooner than expected; new Pickup Truck design details emerge; and where's the 2020 Roadster?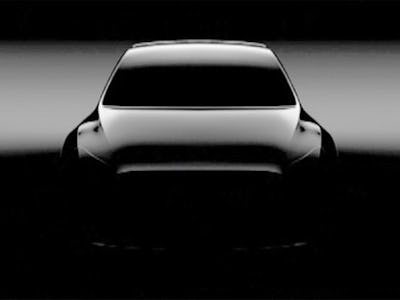 The Model Y could enter production sooner than expected; the Pickup Truck design details emerged; and where's the 2020 Roadster? It's Musk Reads: Tesla Edition #113.
A version of this article appeared in the "Musk Reads" newsletter. Sign up for free here.
Musk quote of the week
"Tesla team has done an incredible job with Giga Shanghai. Honored to work with them. I'm in awe."
Tesla
The Model Y is on the way, and it could enter production sooner than expected. New images spotted by Electrek on a Facebook page show the company's upcoming compact SUV taking a ride around California. The vehicle is sporting a chrome delete that hides the silver edges, plus a midnight silver paint job.
What does it mean? It means we've entered the run-up to the launch of Tesla's mass market vehicle, akin to the Model 3 prototypes regularly spotted ahead of the July 2017 launch. Long-range versions of the vehicle, starting at $47,000, are expected to start deliveries in fall 2020, with the 230-mile $39,000 standard-range car hitting the roads in spring of 2021. But with the Shanghai Gigafactory making big progress and expectations high that the Model Y will reach huge growth figures, an earlier launch could make sense. CleanTechnica on Tuesday cited two anonymous sources claiming that production could start as early as the first quarter of 2020.
Tesla's Pickup Truck is approaching. Ahead of next month's expected launch, Musk has teased that the design will look like an armored personnel carrier. It follows news that Joe Rogan shared a fanmade concept Pickup Truck with Musk, only to be told that the vehicle looked nothing like the upcoming car. Musk has previously described the car as "cyberpunk" and "Blade Runner"-like. Read more.
Tesla solar
Tesla is adding solar to its Supercharging stations "as fast as possible," Musk claimed last week. Musk previously claimed that the third-generation supercharger, which delivers up to 250 kilowatts of power, will play a pivotal role in moving the company's car chargers onto solar energy. Musk claims that the end goal is "24/7 clean power with no blackouts." Progress has been slow, however. The original 2012 announcement of the Supercharger described this future solar-powered setup. Read more.
What's next for Tesla: Tesla is expected to unveil its Pickup Truck next month.
Input
Hey, we're starting something new and it's going to be awesome. You should be the first to know.
Musk Reads mailroom
Paul Grund writes:
Why no Tesla ads on TV? One ad showing a Tesla EV stomping an ICE muscle car would sell a million Teslas to power-crazed U.S. drivers.
Tesla has always prided itself on its minimal advertising budget, and the results suggest it's working. Tom White, account director at brand agency Table 19, asked in January 2018 whether Tesla's famed $0 ad spend is "just brilliant marketing."
The company's current strategy has managed to get people talking. When Musk sent his red Roadster into space in February 2018, it hit news outlets in an enviable fashion. When Musk uses Twitter to make offhand feature announcements, to share lap times versus the Porsche Taycan, or to highlight the company's progress with Smart Summon, fans share the news enthusiastically throughout social media.
If anything, it's arguable that Tesla has tried to move in the opposite direction and spend even less on marketing. Tesla announced in February plans to close almost all of its physical stores, which serve as a means of getting Tesla cars further into the public eye. It reversed this decision a few days later, opting to only close around half of its stores.
Tesla ads on TV? With a dedicated fanbase already spreading the word, and internal moves to spend less on some areas of outreach, I wouldn't count on it.
Joe Kaminkow writes:
I purchased the new Tesla Roadster Founders Edition two years ago. Have you heard anything on availability or when they may start the ordering process?
You may be waiting a while. Although it's regularly referred to as a 2020 vehicle, Musk has stressed in recent months that it's not a top priority for the company. In June, during an appearance on the Ride the Lightning podcast, Musk described the car as "a kind of dessert. Do we really need the new Roadster to accelerate our progress toward autonomy or toward electrification? No."
As the company focuses on expanding the Model 3 and bringing the Model Y to market, analyst focus tends toward looking at how Tesla will reach more consumers rather than when the Roadster will launch. When Inverse spoke to analyst Gene Munster in August about the company's future plans, he described the Roadster as "largely irrelevant" from a business perspective.
The Roadster's chances of coming out in 2020 took an even bigger hit in September, when Musk outlined the "Plaid powertrain" coming to its future vehicles. The Plaid-powered Model S is set to enter production in October or November 2020, while the "new Roadster and X will come later."
In short, you're probably going to wait at least another 12 months.
Got any comments or queries? Don't forget to send them over to muskreads@inverse.com.
Video of the week
Tesla's bioweapon defense mode helps a Californian driving away from wildfires.
The Elonporium
Subscribe to Inverse Loot and learn about these deals first.
The ultra-fine print
This has been Musk Reads: Tesla Edition #113, the weekly rundown of essential reading about futurist and entrepreneur Elon Musk. I'm Mike Brown, an innovation journalist for Inverse.
Sponsor Musk Reads and get your business in front of a brainy, curious audience that's motivated to make the world a little better tomorrow. advertising@inverse.com.
A version of this article appeared in the "Musk Reads" newsletter. Sign up for free here.