Elon Musk suggests the Tesla of the future could ditch grid power
It's been a long time coming.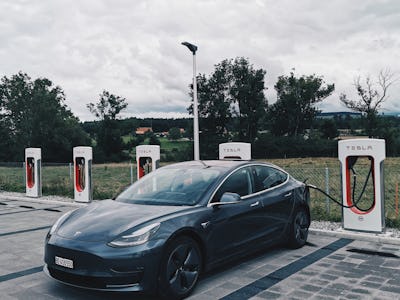 Unsplash / Dario
Tesla's electric car chargers are set to reduce their dependence on the energy grid by producing their own power, CEO Elon Musk claimed Thursday. The announcement comes as California and Tesla prepare for big power outages, with the company planning to fit more charging stations with batteries to ensure a steady stream of power.
"Adding Tesla Solar to our Supercharger stations as fast as possible," Musk stated on his Twitter page. "Goal is 24/7 clean power with no blackouts."
If it comes to fruition, it could transform the electric car. Current vehicles largely charge from the grid, meaning they're susceptible to power cuts and could potentially use fossil fuels as their source of energy. Kitting out Tesla's superchargers with solar panels and batteries would both guarantee a steady stream of power and ensure the energy source is completely zero-emissions.
With the company's third-generation supercharger, this vision may be just around the corner.
Tesla solar: how the new supercharger may pave the way
Although the electric car is touted as a means of ditching fossil fuels, detractors have noted that charging from fossil fuel-based electricity doesn't ditch emissions in practice. A 2017 study found that, depending on a country's energy makeup, owning an electric car in some places over others may prove more environmentally friendly.
Tesla has long touted its goal to move its network of fast charging superchargers to solar power. Its original 2012 announcement of the supercharger declared this intention:
The electricity used by the Supercharger comes from a solar carport system provided by SolarCity, which results in almost zero marginal energy cost after installation. […] Each solar power system is designed to generate more energy from the sun over the course of a year than is consumed by Tesla vehicles using the Supercharger. This results in a slight net positive transfer of sunlight generated power back to the electricity grid.
Fast forward seven years, and Tesla's vision has been slow to materialize. There are 1,636 supercharger stations globally with 14,497 chargers total, but most of them use grid power.
With the third-generation supercharger, unveiled in March, that could soon change. Musk stated in December 2016 that switching to solar required three components: the acquisition of SolarCity, completed that year; the second-generation Powerpack battery, also announced that year; the third-generation supercharger, which didn't launch for another three-and-a-half years.
Tesla's 250-kilowatt charger has been demonstrated putting this idea to use. The Las Vegas charging station, unveiled in March, offers 24 high-powered and 15 low-powered chargers to get cars back on the road. A solar canopy, which protects cars from the elements, stores solar energy in on-site Powerpack batteries.
Tesla solar: paving the way for clean energy
In California, the Pacific Gas & Electric company is planning to cut the power to avoid lines from starting fires. The company has started shutting power to an estimated 800,000 customers.
Tesla has taken proactive measures, alerting residents that they should charge their car and activating Storm Watch for Powerwalls that charges the battery to full capacity. Musk also announced that Tesla would speed up its Powerpack rollout for Tesla superchargers.
"All Tesla Supercharger stations in regions affected by California power outages will have Tesla Powerpacks within next few weeks," Musk stated via Twitter. "Just waiting on permits."
With Tesla now better equipped to roll out clean energy across these routes, the upgrade could draw new attention to the company's efforts in these areas.