Tesla Cyberquad: specs, seats and release date for surprise electric ATV
The Cybertruck received a surprise addition after its unveiling.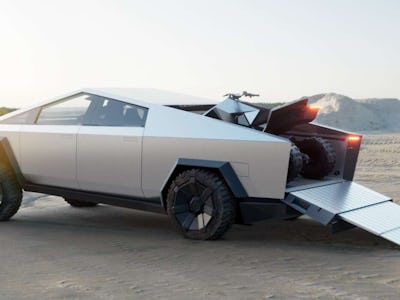 Tesla
"Oh wait! We have uh…" Tesla CEO Elon Musk said toward the end of Tesla's all-electric Cybertruck launch. "We made a, uh, we also made an ATV."
And with those words, a Tesla representative rolled out perhaps one of the company's most unexpected vehicles in its history. The ATV — later described as a "Cyberquad" on Tesla's website — rolled out onto the stage, before rolling onto the back of the just-announced Cybertruck.
Musk later confirmed on Twitter that the ATV would be a two-person vehicle available first as an option for the Cybertruck. On December 8, Musk stated that the goal is to have the ATV launch at the same time as the truck. Beyond those small initial details, little else is known about the company's first foray into this type of vehicle. It may not also be the last foray, as Mush as also teased an electric dirt bike could also launch.
Although Tesla had previously unveiled a surprise vehicle at past events, there was little rumor of the ATV ahead of the launch. Musk unveiled the Tesla Roadster as a special surprise alongside the Semi truck at the firm's November 2017 event, but Musk had previously confirmed the vehicle ahead of the show.
In the aftermath of the show, fans were left scratching their heads. When does the ATV go on sale? What are the ATV specs? Is it all-electric?
It was a surprising finish to one of Tesla's most bizarre launches. The Cybertruck, unveiled at the Tesla Design Studio in Los Angeles, starts at $39,900 and offers seating for up to six adults, optional range of over 500 miles, a 0 to 60 mph time that can drop to under 2.9 seconds, and the ability to tow more than 14,000 pounds. Its angular design comes from a 30X steel that's been cold-rolled.
But perhaps the strangest part of the presentation was the Cybertruck's design. Musk had teased for the past several months that it would sport a Blade Runner design, something that would look "heart-stopping," one that could even look like an armored personnel carrier. Little could prepare the audience for the bold, angular body unveiled on stage. When Tesla designer Franz von Holzhausen smashed two windows seemingly by accident, it made the whole presentation seem even less real.
As the tiny Tesla vehicle rolled out onto the stage as the finisher, it was hard to believe quite what transpired.
Tesla ATV: what we know so far
Musk was rather tight-lipped on the finer details of the ATV, but he was quick to demonstrate its electric credentials.
"It's currently plugged in and charging!" Musk said. Indeed, the Cybertruck houses outlets for both 110-volt and 240-volt power, enabling users to complete professional work on the go. It also has an on-board air compressor.
Musk explained how the quad was able to fit into the back of the truck thanks to the truck's adjustable suspension. It offers suspension adjustments up to four inches thanks to adjustable air suspension. The rear offers 100 cubic feet of lockable storage, which Tesla claims is enough for the quad bike, a toolbox, a spare tire and room to spare.
The two-person all-electric vehicle will ship as an optional extra with the Cybertruck. It's expected to launch around the same time as the truck itself. The Cybertruck is set to enter production in late 2021 in three configurations:
$39,900: Single-motor rear-wheel drive with over 250 miles of range, over 7,500 pounds of towing capacity, and 0 to 60 mph in less than 6.5 seconds.
$49,900: Dual-motor all-wheel drive with over 300 miles of range, over 10,000 pounds of towing capacity, and 0 to 60 mph in less than 4.5 seconds.
$69,900: Tri-motor all-wheel drive with over 500 miles of range, over 14,000 pounds of towing capacity, and 0 to 60 mph in less than 2.9 seconds.
Self-driving functionality is an extra $7,000 for all configurations. Pricing for the Cyberquad is unclear.
YouTube channel HyperChange managed to take a closer peek at the new vehicle, demonstrating its angular design that looks like something out of video game series Halo.
Speculation based on the above video suggested it could be a Yamaha 700 Raptor ATV with its gas-powered engine swapped out. However, in a statement to Fox News Auto, the company stated: "We have no affiliation with the ATV concept Tesla recently unveiled, but it's not surprising they might take cues from Yamaha's Raptor 700, as it's been the best-selling sport ATV for many years now."
The ATV is something of a surprise from Musk, who previously dismissed the idea of building a motorcycle. In June 2018, during the company's annual shareholder meeting, Musk said that "I had a road bike until I was 17 and was almost killed by a truck, so we're not going to do motorcycles." While both vehicles ditch any sort of enclosure for the driver, it seems Musk's aversion is more to the slimmer two-wheel configuration.
There is little in the way of competition for Tesla's all-terrain vehicle. Teslarati notes that the closest may be the Stealth Electric ATV, which offers 35 to 38 miles of range and speeds of 35 mph with its four-kilowatt motor supplying 72 volts of power.
As the Cybertruck's launch approaches, the ATV could be one of its most intriguing extras.
There could be more to come. Despite claiming that the Cybertruck launch would be the last big product reveal for a while, Musk suggested on December 8 that an electric dirt bike would be "cool."
Update 12/2 5 a.m. Eastern time: An earlier version of this story described the Cybertruck steel as being cold-rolled 30 times. It has now been corrected.