Tesla Cybertruck: Elon Musk explains why its design looks so weird
Tesla has gone for a very angular design with the Cybertruck.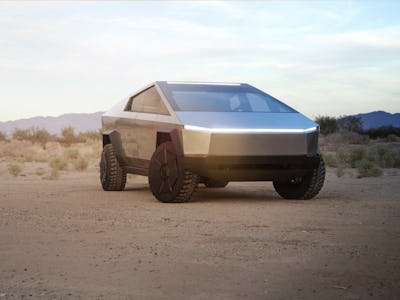 Tesla
Tesla's Cybertruck made quite a stir when it debuted last Thursday. The company's highly-anticipated all-electric pickup truck defied expectations by ditching curves in favor of bold, sharp edges. While it makes the car look like something out of a mid-nineties video game, it turns out there's a good reason behind the design.
"Reason Cybertruck is so planar is that you can't stamp ultra-hard 30X steel, because it breaks the stamping press," CEO Elon Musk explained via Twitter Sunday evening, signaling how the body's materials could have made a design like this almost a necessity. "Even bending it requires a deep score on inside of bend, which is how the prototype was made."
It's an added curiosity for the head-turning truck, which has racked up 200,000 orders since its debut. On November 23, when the truck only had around 146,000 orders, Musk broke these sales down by type:
17 percent of buyers ordered the $39,900 model. This is a single-motor rear-wheel drive with over 250 miles of range, over 7,500 pounds of towing capacity, and 0 to 60 mph in less than 6.5 seconds.
42 percent of buyers opted for the $49,900 model. This is a dual-motor all-wheel-drive with over 300 miles of range, over 10,000 pounds of towing capacity, and 0 to 60 mph in less than 4.5 seconds.
41 percent of buyers went for the $69,900 model. This is a tri-motor all-wheel drive with over 500 miles of range, over 14,000 pounds of towing capacity, and 0 to 60 mph in less than 2.9 seconds.
With the first vehicles expected to go into production in late 2021, it will be a while before the Blade Runner-inspired vehicle hits streets.
Tesla Cybertruck: the steel at work
The body is made of a thick, ultra-hard 30X stainless steel. The steel has been cold-rolled. MetalSuperMarkets explains that where hot-rolled steel is rolled at temperatures over 1,700 degrees Fahrenheit, cold-rolled steel is processed further in cold reduction mills. This gives it a higher tolerance and straightness.
"We're going to be using the same alloy in the Starship rocket," Musk said.
The rocket, currently under development by SpaceX, is designed to transport the first humans to Mars and beyond. The material is much cheaper than its previous plan to use carbon fiber, which would have cost $130,000 per ton versus the $2,500 for steel. Long-term, SpaceX aims to take steel directly from the mill and curve it to the needed nine-meter diameter.
The steel is a big area of focus for the Starship, and it seems Musk is making the most of SpaceX's advancements in this area for the truck. Musk explained via Twitter than the decision to switch the Starship to steel came before the Cybertruck.
"We were going to use titanium skins for Cybertruck, but cold-rolled 30X stainless is much stronger," Musk explained via Twitter. "We're creating this alloy at Tesla. Not a problem to create a lot of it, but we'll need to come up with new body manufacturing methods, as it can't be made using standard methods."
The vehicle measures 231.7 inches long, 79.8 inches wide and 75 inches high. It has six seats, and a 6.5-foot rear bed. The major change versus other trucks is the mass is moved to the outside, which Musk likened to an "exoskeleton." This is different to how most trucks are designed, with a body and bed on frame essentially
Tesla's lead designer, Franz von Holzhausen, demonstrated the strength of the steel by hitting it with a hammer:
Musk also detailed how the company held ballistic impact tests, with a 9-millimeter full metal jacket weighing 115 grain from 10 meters. Where a traditional steel door failed, Musk described it as "literally bulletproof."
"You want a truck that's tough?" Musk said. "You want a truck that's really tough, not fake tough?"
Unfortunately, the transparent metal glass didn't hold up as well. While a demo sheet of glass held up well from drop tests, the glass failed to hold its own against von Holzhausen's throw:
Musk claimed via Twitter that the glass cracked because the sledgehammer impact cracked the glass base. He also shared a video on von Holzhausen throwing a steel ball just ahead of the launch and bounding off the truck fine.
In short, the steel is really strong. Just don't throw any metal balls at the glass if you've already given the door a whack.
Update 12/2 5 a.m. Eastern time: An earlier version of this story described the Cybertruck steel as being cold-rolled 30 times. It has now been corrected.