As Tesla's splashy product launches pause, Elon Musk kickstarts a new era
The Cybertruck will be the last launch for a while as the second master plan comes to an end.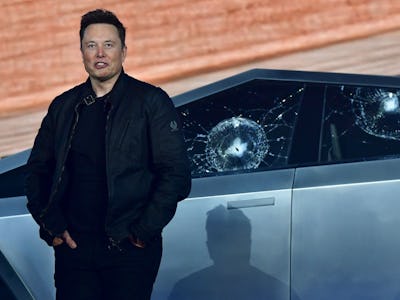 FREDERIC J. BROWN / Getty Images
Tesla is entering a new phase in its short 16-year history, and that means there probably won't be any more new product launches like we've seen over the last five years.
The polygon Cybertruck rolling onto the stage last week was the high water mark for the Tesla's product debut cadence.
It had everything: a characteristically awkward Elon Musk rolling through the key bullet points, surprise high-tech features, details about sustainable energy and autonomous driving, objects smashing into materials (hello, Solar Roof), and even an unexpected reveal for the end (ATV, anyone?).
But on the Sunday after the show, Musk confirmed via Twitter that the presentation, hosted at the Tesla Design Studio in Los Angeles, would be the last for a while:
Cybertruck is our last product unveil for a while, but there will be some (mostly) unexpected technology announcements next year
Tesla has spent the past three years announcing new vehicles for its lineup, executing its stated goals from the 2016 "master plan part deux." Musk raised the prospect of a third master plan during the July 2019 earnings call, but also suggested that the Battery Day scheduled for early 2020 will act as a mini-master plan.
With Tesla's last master plan drawing to a close, and a third master plan nowhere in sight, the company is starting to solidify its new-found position.
Tesla Cybertruck: the end of a master plan
When Musk unveiled his first master plan back in 2006, it was a pretty straightforward affair. The goal was to develop a high-end electric car (which became the 2008 Roadster), use the money to make a more mass-market vehicle (2012's Model S and 2015's Model X) and use the money from that to build an even more mass market car. In March 2016, Tesla started taking deposits for the Model 3, a car that entered production in July 2017.
Sign up for Musk Reads, a twice-weekly round-up of news about Elon Musk
The second master plan, unveiled in July 2016, went even further. It detailed plans to put solar on more people's roofs, to ensure electric cars run from renewable energy. It outlined plans to start an autonomous taxi service, using people's cars and enabling them to make money. It also outlined a three-pronged strategy to transform Tesla from a niche premium automaker to a mainstream company:
The Model 3, a sedan with prices starting at $35,000 that entered production in July 2017.
A compact SUV. This was revealed to be the Model Y in March 2019, with production set to start in the summer of 2020 and prices starting at $39,000.
A pickup truck. This was the Cybertruck revealed last week, with production set to start in late 2021 and prices starting at $39,900.
The success of this strategy is already starting to bear fruit. MIT professor Lex Fridman claims the company has shipped nearly 800,000 vehicles in its entire history, nearly double the figure from this time last year. Tesla is aiming to produce even more cars, reaching around one million Model Y cars per year alone.
The plan also outlined some other, less mainstream vehicles:
A bus. During the company's May 2017 earnings call, Musk seemed to ditch this idea with the logic that it wouldn't make sense if it costs less than a bus ticket to go point-to-point in an autonomous taxi. Musk also dismissed the issue of space in a city by pointing to his plan to dig tunnels with The Boring Company.
A heavy-duty truck. This was unveiled as the Tesla Semi in November 2017 with a starting price of $150,000. It's expected to enter production in 2020.
Musk has since unveiled another vehicle that was not listed in the master plan. The second-generation Roadster, which starts at $200,000, is a performance beast that can run for 620 miles per charge and go from 0 to 60 mph in less than two seconds. Recent comments suggest it could enter production in 2021.
Tesla's release schedule is looking pretty packed. It's got the Model Y in the summer of 2020, the Semi sometime next year, the Roadster possibly before the end of that year, and the Cybertruck in 2021. It's also expected to further develop its autonomous driving system for all cars produced after October 2016.
While we may not see a flashy launch for a while, it's not like the company is taking a break.
Tesla master plan: what could be in the next one?
Musk has made some hints about where the company could go from here. The company's stated goal is to finish developing a fully-autonomous driving system, which could support a robo-taxi service that makes Tesla a key player in the ride-sharing space. ARK Invest predicted in August 2018 that this service could boost Tesla's share prices tenfold as it moves from being more than just a car company and starts to manage how people move around a city as well.
The plan to reveal more details at the company's next Battery Day also suggests there could be more developments in this space. Musk has mentioned his desire to bring more of the battery's production in-house. Tesla's acquisition of Maxwell Technologies could help unlock batteries with even greater energy density. Musk also claimed in June 2018 that the company's next-generation batteries would ditch cobalt entirely.
Musk has also suggested that Tesla could make a $25,000 car. This, he started in August 2018, could take somewhere between three and four years, placing a launch potentially somewhere in 2022 or 2023.
The last product launch for a while? Perhaps, but that doesn't mean the company is without ambitious plans.
Sign up for Musk Reads, a twice-weekly round-up of news about Elon Musk