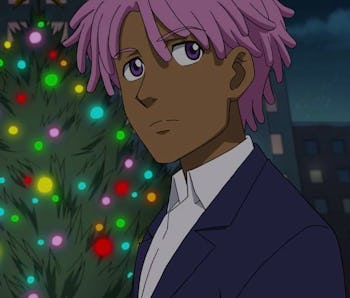 Entertainment
The 11 best science fiction movies and shows on Netflix in December 2019
For when you want your sci-fi but you also want to be a little bit festive.
Netflix
December is an overwhelming time to be on Netflix. The streaming service has made a holiday tradition out of dumping a sleigh's worth of Christmas specials and Hallmark-style holiday films on subscribers each year. Amid all that cheesy holiday cheer, it might be hard to find some good science fiction, but if you know where to look there's still plenty of great options.
There's the newly added Nightflyers, an adaption of Game of Thrones creator George R.R. Martin's sci-fi story, and Henry Cavill's starring turn as the buff, silver-haired Geralt of Rivia in The Witcher. But this month, we're taking a more targeting look at some of the most festive stories Netflix has to offer in science fiction alongside whatever's new and best.
A Christmas Prince: The Royal Baby is a perfectly pleasant and thrilling conclusion to a royal trilogy, but if you're hankering for a taste of tomorrow this holiday season, here are the 11 best pieces of science fiction on Netflix, with a focus on new original shows and movies — but also some stuff infused with the spirit of the holidays.
Vanessa Hudgens stars as a typically overworked and lonely woman heading into the holidays, wishing she might finally discover her knight in shining armor. That's when she runs over a medieval knight wearing shining armor in the middle of the snowstorm who accidentally time-traveled to the present.
Writing for Jezebel, Kelly Faircloth called The Knight Before Christmas "goofy but perfect," writing that the film "makes no sense," and yet "frankly, I love that." The movie feels like a ridiculous but fun story like Kate & Leopold but set during the Christmas season. Because it's time travel, it definitely counts as science fiction.
What if Netflix gave Michael Bay a ton of money and access to an excellent cast including Deadpool star Ryan Reynolds, all to make a ridiculous action movie that feels like a mix between Mission: Impossible and Fast & Furious with a wicked sense of humor? This is no Christmas miracle folks. 6 Underground is about to overwhelm and exhaust your senses with enough explosions and star-power that you won't even know what to do with yourself.
After faking his own death, a tech billionaire recruits five other people to go underground and become a team of hardcore international operatives with the mission of taking down a dangerous warlord. Did I mention it'll be explosive?
6 Underground will be added to the Netflix library December 13, 2019.
No holiday season is complete without a journey into perhaps the coldest, snow-filled dystopia ever imagined. Former Captain America actor Chris Evans stars as a violent rebel in an apocalypse where the world has frozen over and the only survivors hurdle through the icy landscape aboard a monstrous train that never stops.
From visionary South Korean director Bong Joon-ho (Okja), Snowpiercer is a brutally violent and incredibly grim piece of dystopian sci-fi that addresses climate change and social inequality alike in horrifying ways. With a spin-off series due out in 2020 on TNT, there's no better time to curl up on the couch while it's snowing outside to watch this horrifying masterpiece and dwell on the dangers of climate change.
I'll level with you: Not many people seem to like Nightflyers, the canceled Syfy series adapted from a science fiction story originally written by George R.R. Martin, the famed author who will never actually finish writing the Game of Thrones books. But hey, it only just hit Netflix at the beginning of December, so why not give it a shot?
Set in the year 2093, Nightflyers follows a group of scientist aboard the eponymous spaceship as they embark on an expedition to make contact with alien life, but by the time they make it beyond the edge of our solar system, horrifying things begin to happen. Are they all going insane? Or is there some kind of presence aboard the ship with them? Will we ever know?
This Lost in Space reboot is a classic spacefaring adventure reinvented for a contemporary audience. The Robinson family goes into space to write a new chapter in human history when the Earth is in crisis. This family of pioneering space colonists literally gets "lost in space" after their ship enters a rip in spacetime that sends them to an alien planet. The results are thrilling, gripping, and a lot of fun. And the robot is hot now. Go figure.
This hard sci-fi set in the far reaches of space, and because it's about an entire family, it feels like a nice series for an entire family to watch together around the holidays. Even better: Season 2 hits Netflix on Christmas Eve.
Lost in Space Season 2 will be added to Netflix on December 24, 2019.
The Magicians is more accurately a mature magical dark fantasy series set in the modern day, but it's a dynamic show that delves into sci-fi elements as well. It began as an R-rated Harry Potter where a bunch of brilliant, edgy millennials went to a magical grad school, but over time, The Magicians has expended its multiverse in a multitude of exciting ways that incorporates travel through time and various worlds.
Season 4 might be its darkest yet: An enigmatic organization has seized the source of all magical power while Eliot, one of the central characters, has been possessed by what we might as well call an ancient demon.
For an extra fun seasonal tie in, when Season 4 arrives on Netflix later this month, it'll introduce Santa Claus to viewers — and Saint Nick is not what you'd expect.
The Magicians Season 4 arrives on Netflix December 16, 2019.
The holidays is an interesting time to rewatch all or some parts of Stranger Things Season 1. Relive the joy and wonder of Joyce Byers' infamous Christmas lights display as she struggled to communicate with her interdimensionally displaced son. Or watch the above behind-the-scenes exclusive featuring the cast of Stranger Things during Christmastime. Alternatively, you could also just watch the very end of Season 1.
Most of the season takes place in November of that year, but the final 10 minutes of Season 1 show what everybody is up to on Christmas. Netflix really ought to do a bonafide Christmas special, but this is the best we have from this excellent sci-fi series about monsters invading our world from an alternate dimension where our best line of defense is a telekinetic little girl.
Neo Yokio is a criminally under-appreciated animated series on Netflix that will probably never get a legitimate Season 2, but a 2018 Christmas special called "Pink Christmas" is the next best thing.
In the future of an alternate history, a drowned New York becomes "Neo Yokio." Kaz Kaan (Jaden Smith) is the pink-haired "magistocrat" tasked with protecting the city from supernatural (mostly demonic) threats with the magic powers given to everyone in his family tree. Neo Yokio celebrates anime tropes, upper-class society, and classism just as much as it criticizes them. If you delight in the truly weird, then don't hesitate to watch the hilarity that is Neo Yokio.
"Pink Christmas" is presented as festive holiday tale told to Kaz from his robotic butler, and it captures the spirit of the show as much as it does the capitalistic spirit of Christmas.
Netflix's beloved series of cautionary tales about the future dangers of emerging technologies, Black Mirror, did a scary Christmas special in Season 2, Episode 4 with "White Christmas." At a remote outpost covered in snow, two men share a Christmas meal together and swap eerie tales of their earlier lives in the outside world where different technologies led to death and misery for everyone involved. Their newfound isolation initially seems like them avoiding their problems altogether, but there's a shocking twist at the end that makes this episode the darkest Christmas story ever told.
Though it dips into the realm of horror and satire, Black Mirror is consistent with one question: What can technology do to us when it's taken to extremes? "White Christmas" is no different.
Season 1 of The Flash gave us some of the best superhero storytelling that The CW has ever done, and the mid-season finale that takes place during Christmas introduces viewers more properly to the Reverse-Flash and finally confirms his identity as Harrison Wells, the mentor who had been guiding Barry the whole time.
The episode has a number of great chase and action sequences and character development aplenty as the gang discovers that Caitlin's former fiance Ronnie is still alive. Especially with the "Crisis on Infinite Earths" about to shake up the CW's Arrowverse forever, rewatching this episode could be a fun way to celebrate the holidays.
You're probably surprised to see The Witcher on a list of science fiction titles on Netflix on account of it seeming like high magical fantasy, but the actual story presented doesn't feel anything like The Lord of the Rings or Game of Thrones. There are elements of this universe that give off X-Men or The Shannara Chronicles vibes. Even though magic permeates this world, there are also scientific aspects that give it a unique feel.
Former Superman actor Henry Cavill stars as Geralt of Rivia, a white-haired superpowered Witcher who hunts monsters but quickly gets drawn into a mysterious prophecy involves a young princess. In this fantasy universe "mutagens" essentially alter the DNA of certain people, Witchers included, given them fantastical mutant powers. It straddles the line between magic and science just enough that you might as well call it sci-fi.
The Witcher might be Netflix's next big hit when it comes to the streaming platform later this month.
The Witcher will be available to stream on Netflix December 20, 2019.
Past Updates: