A surprising 'Game of Thrones' character inspired Henry Cavill's 'Witcher'
Or at least his hairstyle.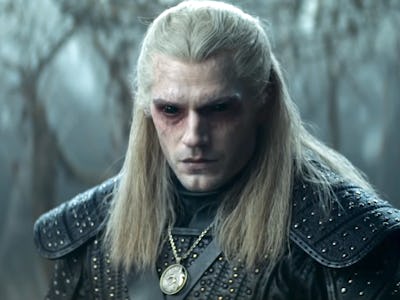 Netflix
When The Witcher hits Netflix later this month, it's going to draw a lot of inevitable comparisons to Game of Thrones. After all, they're both mature live-action high fantasy based on popular book franchises.
But the comparisons don't stop there. In a recent appearance on Jimmy Kimmel Live, Witcher star Henry Cavill revealed which Game of Thrones character he drew inspiration from for his performance, and it's not who you'd expect.
Cavill appeared as a guest on the talk show on Tuesday night where he discusses his experience playing Superman and starring opposite Tom Cruise in Mission: Impossible — Fallout. But he was mainly there to promote his new Netflix series, The Witcher, based on a series of novels of the same name, in which he plays a solitary monster hunter in a magical realm.
When Kimmel brought up the comparison to Game of Thrones he noted that Cavill's character, Geralt of Rivia, has the same stark white hair as Daenerys Targaryen from Thrones.
"I modeled myself after Khaleesi," Cavill joked. "I made people call me Khaleesi or Emilia on set. I want to be Emilia or Khaleesi. Call me Mother of Dragons, I'm fine."
Cavill's superpowered monster-killing bounty hunter, Geralt of Rivia, doesn't really match up with any Game of Thrones character directly. He's got a bit of Jon Snow, but he's also a mercenary in the style of Bron. Maybe he's closest to the magic-wielding GoT characters like Thoros of Myr or Beric Dondarrion.
As a Witcher, Geralt is a super-powered mutant capable of wielding magic in a way that most people in this world can't. He was exposed to an excessive amount of mutagens that gave him enhanced physical attributes, making him capable of fighting all manner of monstrous threats on the Continent (the show's ambiguously medieval European setting).
Early reviews for The Witcher seem positive, with the funniest comment remarking that the action is even better than Game of Thrones. (Perhaps that's thanks to Cavill, who does all of his own stunts on the series, which he also told Kimmel in the interview.)
"The fight scenes in The Witcher make Game of Thrones fight scenes look like two drunks fighting outside a bar," one person wrote on Twitter.
We'll see if Cavill is truly able to channel his inner Dragon Queen when The Witcher arrives on Netflix later this month.
The Witcher hits Netflix on December 20, 2019.