'Witcher' release date, trailer, reviews, and cast for Netflix's new fantasy
Welcome to the Continent ... it's been waiting for you.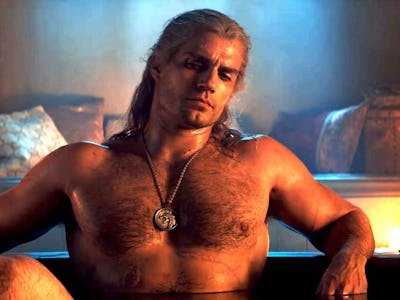 Netflix
Game of Thrones is a distant memory and Amazon's Lord of the Rings show is still a mystery. So what's a fantasy fan to do? Enter The Witcher, an epic new series from Netflix based on the popular Polish fantasy novels by Andrzej Sapkowski and starring Henry Cavill (and a very impressive wig) as Geralt of Rivia, a monster-killing mercenary with supernatural abilities.
We're just a few weeks away from The Witcher's release on Netflix, but before this new show transports us all to a fantastical world of magic, monsters, witches, princesses, and elves, here's everything you need to know about the series, from its release date to reviews, to the latest Season 2 updates.
What is The Witcher?
First published in 1986 as a series of short stories, The Witcher was later compiled into a series of books by Sapkowski. It takes place in a land known as the Continent based loosely on medieval Poland.
These stories primarily follow Geralt, a monster-killing human who was mutated intentionally as a child, giving him superhuman strength, mental abilities, and more. The procedure also caused him to lose his pigmentation, which explains Henry Cavill's white skin and hair on the show. Geralt is one of the last Witchers and uses his skills to make money as a monster hunter.
Other key characters include Yennefer of Vengerberg, a witch with a strong connection to Geralt; Cirilla Fiona Elen Riannon, a human princess; Jaskier, a singing bard and a friend of Geralt's; and Triss Merigold of Maribor, another witch.
While The Witcher achieved a cult following in Poland, it was the series of video games from CD Projekt Red that helped the story find a mainstream audience. The franchise began with 2007's The Witcher on the PC, followed by The Witcher 2: Assassins of Kings and The Witcher 3: Wild Hunt.
Either the books, the game, or both can serve as an introduction to the world of The Witcher, but you can expect the Netflix show to hew more closely to the original novels.
When is The Witcher release date on Netflix?
The Witcher releases on Netflix on December 20. And yes, that's the same day Star Wars: The Rise of Skywalker hits theaters.
What's the release time for The Witcher?
Netflix hasn't made an announcement, but the company almost always releases new originals at 3 a.m. Eastern time (that's midnight in California, where Netflix is based). So expect a late night launch for The Witcher as well.
Is there a trailer for The Witcher?
Yes! Netflix released a trailer during San Diego Comic-Con in July. Watch it below:
A few months later, we got this slightly longer "main trailer," too:
What is the plot of The Witcher?
According to the official synopsis from Netflix:
"Based on the best-selling fantasy series, The Witcher is an epic tale of fate and family. Geralt of Rivia, a solitary monster hunter, struggles to find his place in a world where people often prove more wicked than beasts. But when destiny hurtles him toward a powerful sorceress, and a young princess with a dangerous secret, the three must learn to navigate the increasingly volatile Continent together."
Ciri is the "young princess" mentioned in the synopsis while Yennefer is the "powerful sorceress." Audiences can expect the plot to revolve primarily around Geralt, Ciri, and Yennefer since they form the show's core trio.
How many episodes are in The Witcher Season 1?
The Witcher Season 1 will have a total of eight episodes. There's no confirmation yet, but based on previous Netflix dramas, you can expect each episode to clock in at roughly 50 minutes to an hour.
Is The Witcher renewed for Season 2 on Netflix?
Surprisingly, the answer is yes. Before even releasing Season 1, Netflix renewed the show for a second run of episodes. Variety broke the news in November, over a month before the show's premiere.
"I'm so thrilled that before fans have even seen our first season, we are able to confirm that we'll be returning to the Continent again to continue telling the stories of Geralt, Yennefer and Ciri," showrunner Lauren Schmidt Hissrich said in a statement.
Who's in The Witcher cast?
Aside from Henry Cavill, The Witcher is made up of mostly unknowns. Here's some key cast members:
Henry Cavill as "Geralt of Rivia"
Anya Chalotra as "Yennefer"
Jodhi May as "Queen Calanthe"
Björn Hlynur Haraldsson as "King Eist"
MyAnna Buring as "Tissaia"
Mimi Ndiweni as "Fringilla"
Emma Appleton as Princess "Renfri"
What are The Witcher reviews saying about the show?
Netflix's official review embargo won't lift until The Witcher premieres on December 20, but that hasn't stopped some critics from sounding off on social media with early reviews and reactions.
A post on Reddit recently rounded up some of these initial reviews, which paint an overwhelmingly positive picture of the Netflix series.
Here's a few samplings:
Plowed through the initial screeners for Netflix's THE WITCHER, and I've gotta say: I'm quite liking it! I'll have more to say about it when the embargo drops, but it's well-cast, smartly-structured, and nicely paced. Good, solid pulp-fantasy nonsense. — Asher Elbein, freelance journalist
I've seen some of season one of 'The Witcher' and I am sooo happy it is getting a second season! Anya Chalotra as Yennefer is inspired casting. Truly. — @atomicwick
Oh I will say this. The fight scenes in The Witcher make Game of Thrones fight scenes look like two drunks fighting outside a bar. — @witcherpodcast
So … is this going to fill the Game of Thrones-sized hole in my heart?
Okay, listen: It's going to be tough to replace Game of Thrones, believe me. But if any new show stands a chance at conjuring up another deeply engrossing, textually-rich high fantasy story like HBO's hit series, The Witcher is going to come pretty damn close. It feels early to call this shot, but yes, all you GoT fans mindlessly scrolling through to look for a new show will likely find something to love in The Witcher.
How can I watch The Witcher?
You'll be able to watch The Witcher exclusively on Netflix. Just make sure that subscription is sorted out before December 20!
Allie Gemmill contributed to this article.