'Blood and Wine' Totally Deserved Its RPG of the Year Win
Anyone that's played it knows.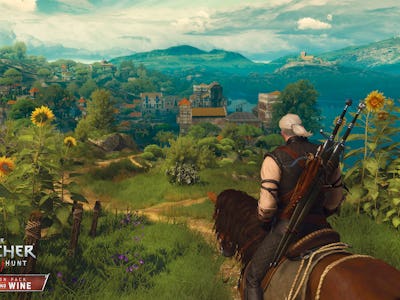 The Witcher Wiki
The Witcher 3 expansion Blood and Wine took home the award for Best Role-Playing Game of the Year and the Game Awards 2016, sending ripples across the audience gathered to watch the show. [Blood and Wine] beat out Dark Souls 3, Deus Ex: Mankind Divided, World of Warcraft: Legion, and Xenoblade Chronicles X to take home the title. And while some questioned whether an expansion pack is worthy of an award among other contenders that were mainly full releases, Blood and Wine is fully deserving of the honor.
Blood and Wine is hard to brush off as mere DLC with its 30 hours of content. It's a last hurrah for witcher Geralt as he is welcomed into the fairytale land of Toussaint, not with the customary boos and hisses, but with open arms and warm thanks. It's not as gritty as other beats in The Witcher story, but it is a perfect representation of all that makes The Witcher 3 great.
Blood and Wine shines in its narrative diversity. A man discovers a woman bound to a tree by a curse, and our hero does dealings with a local witch to set her free but with unexpected consequences. Geralt dines with a hideous wight with a bit of a hoarding problem. The impotent knights that roam the land are in need of frequent rescue from their failed attempts at bravery. Our hero must navigate the inscrutable red tape of a Toussaint bank. Local quarrymen are puzzled and terrified when a cow falls from the sky, squishing one of their fellows. Geralt crashes a local festival at the behest of the Duchess, smashing party favors and taming stray "unicorns."
Blood and Wine puts CD Projekt Red's finest writing on display in both lashes of wit and genuinely moving moments. It crafts tales of both knightly buffoonery that would make Geoffrey Chaucer proud, and pays homage to the more serious medieval romances that paved the way for our own modern vernacular. It tells the tale of an idyllic world resplendent in emerald verdure that is also tainted by horrible fanged beasts that may be more human than its populace would like. Blood and Wine deserves the RPG of the Year award by virtue of its creative storytelling alone.
In fact, these side quests, not to mention the excellent main story campaign, are just as deserving of an award for their clever design, and Toussaint's incredible world building. Once again CD Projekt Red paints a world that feels truly lived in. The writing is top-notch, too, with plenty of goofs and pop-culture references, but also moments of intense introspection and moving camaraderie.
Blood and Wine does not break new ground by way of mechanics, really, but that is just as well. The developers here have concentrated on using that foundation to again bring fans a worthy send-off and a fond reminder of what The Witcher 3 does so well. Blood and Wine is worthy of the highest recognition because it gives future RPGs a new standard to aspire towards. It is rare that an RPG feature quests that are so well written, so memorable, and so engaging. Blood and Wine, and The Witcher 3, will likely be the future benchmark for role-playing games down the line.