Everything You Need to Know About 'Gwent'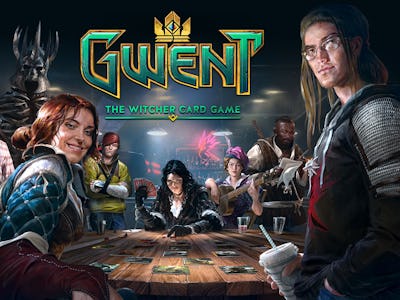 CD Projekt Red 
Gwent: The Witcher Card Game, which is the full title of the game because nothing is simple, just began its beta test. Those lucky enough to find a code in their grasp will be among the first to try out CD Projekt Red's attempt at turning Gwent into a standalone video game after its massive popularity in Witcher III. But it's not the same game it was — there's more to it now.
Many people liked the Gwent mini-game more than Witcher III itself, and there's definitely something to that. It's a solid, addictive deck builder in its own right with different deck types and a wide array of strategies to try out. It stands to reason that there would be a demand for a standalone title, and Gwent: The Witcher Card Game hopes to be the answer everyone's looking for.
How to Get Into the Beta
Registration for the beta is easy enough. Just head to the official site, fill out the form and send it off. While codes have already rolled out, CD Projekt Red will continue to invite people in waves, so you could even get a code months later. The test is expected to run until Spring 2017, so there's plenty of opportunity. The closed beta will focus on multiplayer for now, so single-player campaigns are off limits at the moment.
Whether or not you were able to get into the beta, it's worth knowing exactly how the game differs from Gwent in Witcher III, and what to expect from the beta test period.
What's New in Gwent
If you can't get in to try the game for yourself just yet, you're probably curious how Gwent: The Witcher Card Game differs from the one seen in Witcher III: Wild Hunt. While the core mechanics largely remain unchanged, CD Projekt Red has added new cards, new skills, new art, animations, voiceovers, PvP, and a full single-player story campaign — all of which is set within a fresh UI that is as beautiful as it is easy to use. That's a lot of new content, and considering it's free with the exception of in-app purchases, it looks to be well worth the download if you had even a passing interest in Gwent while playing Witcher III.
What to Expect From Multiplayer
The biggest changes will likely be found in the multiplayer component. A lot of cards had to be rebalanced to suit human vs. human duels. Real people are smarter than the computer AI, so the developers have to take into account every way each card could be exploited. The team will continue to look into balancing as the closed beta gets underway.
How Single-Player Campaigns Will Fit Into the Game
The full version of Gwent, which this is not, also promises a brand new story set within the Witcher universe, although it allegedly requires no prior knowledge of the Witcher series to enjoy it. Micha Dobrowolski, a CD Projekt Red game designer, said that the single-player campaign will be comprised of several different stories, many of them voiced by folks who played popular characters in previous Witcher games.
The people and creatures you encounter in these adventures are essentially cards themselves, and, depending on choices you make in your adventure, you'll be able to call on these characters later on. Like previous games in the world of the Witcher, your actions will have unforeseen consequences, so you'll always want decide carefully.
The story will continue to be supplemented with updates and expansion packs too, providing continuing incentive to return to single player. The developers aren't only focused on creating an engrossing competitive challenge, but also fleshed out adventures that will do the series justice.
Gwent: The Witcher Card Game is shaping up to appeal to fans of Gwent itself, as well as people devoted to the Witcher and the stories its world are trying to tell. Whether you want to simply enjoy the story or duke it out with your friends in multiplayer, theres something here for everyone to enjoy. CD Projekt Red is seemingly devoted to turning what was once a mini-game into a full-fledged Witcher experience.