Reddit User Made His Own 'Witcher 3' Gwent Set
And it's downright beautiful.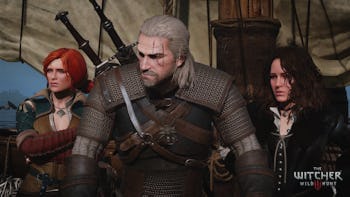 thewitcher3.com
Like many, I've gone through an addiction to CD Projekt RED's The Witcher 3: Wild Hunt — fighting monsters, saving damsels in distress, and traveling through different dimensions. But nothing consumed more time in the game than working on my Gwent collection; a collectible card game within The Witcher 3.
For some lucky gamers, Gwent also become a card game outside of The Witcher 3, released in different decks included with the collectors edition of the game itself and the DLC package for the game's first expansion, Hearts of Stone. Each card is beautifully detailed and modeled as they are in-game — they're just missing a little bit of authenticity to go along with them.
But Redditor R0gue3_Stalk3r aimed to fix that by making an entire Gwent set for his father's late Christmas/early birthday gift.
Not bad a bad end result, right?
It looks like a little bit of woodwork along with some weathering and marker art did the trick, but it's the small details that really make the set stand out. Each set of cards has its own respective row like in the game, along with two sets of red gems to determine who's won each round. What's more amazing, though, is that he actually took a screenshot of every single card from within The Witcher 3: Wild Hunt and had each one custom made for this set by a professional printer.
Here's to hoping he's opening an Etsy shop soon.