The 11 best science fiction movies and shows on Netflix in October 2019
Paul Rudd stars opposite Paul Rudd in this month's coolest new sci-fi show.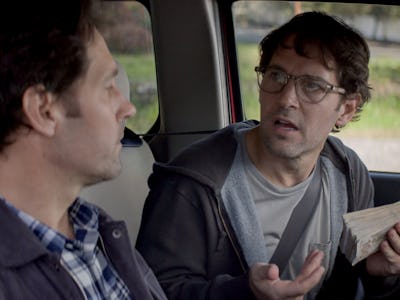 Netflix
October's finally here and that means it's time for "Netflix and Chills," everyone's favorite time for spooky, scary, and occasionally disturbing shows and movies. There's a new Paul Rudd series coming out called Living With Yourself that feels like a cross between Multiplicity and that one episode of Rick and Morty with the detox spa treatment. There's also a new horror movie about a sick child living in isolation from the rest of the world in Eli. He may or may not get haunted? You'll have to watch to find out.
Don't worry, I'll never stop suggesting top-tier science fiction like Spider-Man: Into the Spider-Verse, Her, and Ex Machina, but we've got plenty more brand-new streaming suggestions too.
If you're hankering for a taste of tomorrow this October, here are the 11 best pieces of science fiction on Netflix, with a focus on new, exciting, and original shows and movies. And just because it's October, let's lean towards the spooky and scary just a little bit.
11. Living With Yourself
Paul Rudd stars opposite Paul Rudd in Living With Yourself, a new series in which he lives with himself. The trailer feels almost identical to the Rick and Morty episode "Rest and Ricklaxation." Rudd plays Miles, a man who's struggling through life until he undergoes a novel spa treatment that promises to make his life better. But instead, he's replaced with a better version of himself that takes over his life. The science fiction aspects of this show seem light at best, but the entertainment value is sure to impress.
Living With Yourself will be released on Netflix October 17, 2019.
10. The Walking Dead
All nine complete seasons of The Walking Dead are on Netflix, and they'll probably remain until the end of time, bolstering the platform's growing library of decent zombie content. Say what you will about lackluster ratings and dwindling quality, but nobody can argue against how crucial The Walking Dead is to the zombie genre. The series debuted just as zombie saturation peaked. Nevertheless, it's continued to boast some of the best ratings on television.
Season 9 only just hit Netflix on September 1. It explores the aftermath of Season 8's "All Out War" and most notably includes the departure of Andrew Lincoln from the show, who had played protagonist Rick Grimes since the very beginning. He's supposedly getting some kind of spin-off movie, but we'll believe it when we see it.
9. Stranger Things
'80s nostalgia never looked as cool as it does in Netflix's Stranger Things, a sci-fi dark fantasy series set firmly within the decade of arcades and power ballads. Cold War conspiracies unfurl in the otherwise generic town of Hawkins, Indiana. There, in a government lab where questionable men tried to weaponize a young psychic, they ripped open a portal to a dark dimension called the Upside Down.
Stranger Things follows a broad cast of characters, mainly a group of young D&D-loving kids who get swept up into an adventure that will see them fighting for their loves against a demonic new enemy.
In Season 3, they discover that the sinister Mind Flayer from the Upside Down lingers in the real world, exerting its influence in a way that could be more dangerous than ever before.
8. Neon Genesis Evangelion
One of the most famous and beloved anime of all time landed on Netflix in late June. For the first time since its debut in 1995, all 26 original Neon Genesis Evangelion episodes are now available to stream in one place, along with The End of Evangelion film and the bonus extended episode EVANGELION: DEATH (TRUE)². Altogether, the series is a must-watch for any anime fan.
This complex sci-fi universe grapples with heady philosophical and existential concepts in familiar mecha anime trappings: a group of high schoolers must pilot giant robots to fight monstrosities, but it takes an enormous toll on them mentally and emotionally. Neon Genesis Evangelion tweaks the mecha and slice-of-life genres to explore how religion influences culture, particularly in a society on the brink of apocalypse. Perhaps more importantly, this hugely influential sci-fi epic established tropes you'll recognize from across anime and even live-action sci-fi.
Two companion films, The End of Evangelion and EVANGELION: DEATH (TRUE)², are also available on Netflix.
When an 11-year-old with a debilitating illness checks into a remote clinic for experimental treatments, what's the worst that can go wrong? The young boy's illness requires him to live in complete isolation, but while undergoing treatment at a "clean house facility," he becomes haunted by experiences that make him afraid. Is the terror here supernatural? Or is it the twisted sci-fi experiments of a madman or madwoman?
Eli will be released on Netflix October 18, 2019.
This stop-motion animated dark fantasy horror film is based on Neil Gaiman's novel of the same name. It's written and directed by Henry Selick, who also did A Nightmare Before Christmas. (That should give you a strong indication of the style and humor at play here.)
A young girl discovers a peculiar door in her home that leads into an alternate reality where everything seems better. Supernatural elements abound that threaten to keep her in this unsettling, idealized world forever. Vivid and imaginative, Coraline is delightfully entertaining for kids of all ages who like to get a little scared every now and then.
5. The Island
Michael Bay's sci-fi thriller The Island puts young Obi-Wan Kenobi (Ewan McGregor) and Black Widow (Scarlett Johansson) together in an isolated utopian compound where things are more sinister than they appear. They hope to venture to a place called "The Island" said to be one of the few uncontaminated places left on Earth in the middle of the 21st century. The harsh reality of their situation is even more terrifying than they could've possibly imagined.
4. V for Vendetta
Everybody's comparing the final Joker trailer to The King of Comedy, but nobody's talking about how the activist revolution Joker seems to inspire feels deeply reminiscent of V for Vendetta, one of the most important action films of the early 2000s. If Joker is an agent of chaos and madness seeking to destroy the world that tortured him for years, then V in V for Vendetta exemplifies how heroes rise above trauma to build a new world — villains just want to burn it all down.
In this dystopian political thriller fueled with sci-fi elements, a masked vigilante and anarchist freedom fighter seeks to undermine the neo-fascist totalitarian regime that has taken over the U.K. Though labeled a terrorist, his controversial — and yes, often terribly violent actions — inspire a much-needed revolution in an action-packed and thoughtful adventure.
3. Spider-Man: Into the Spider-Verse
We've gotten more Spider-Man movies in the last 20 years than any other superhero, yet somehow Spider-Man: Into the Spider-Verse was able to do something surprising and totally fresh. Spider-Verse functions as an origin story for Miles Morales, a Black Hispanic teenager who's bitten by a different radioactive spider than the one that gave Peter Parker his powers.
Netflix just added this Oscar-winning animated feature in June, and it's a must-watch for all superhero fans, especially for its exploration of the science behind the multiverse.
2. Her
In Her, the always-excellent Joaquin Phoenix plays a man who falls in love with a disembodied A.I. voice — a hyper-advanced Alexa who sounds like Scarlett Johansson and can learn at an exponential rate. Set in near-future Los Angeles, Her explores the depression of a sensitive guy looking to fill an emotional void following the end of a long-term relationship.
What sounds like a bit of a crazy premise is sold by filmmaker Spike Jonze with nothing short of delicate tenderness. Her won Best Original Screenplay at the 86th Academy Awards, making it a must-see for any fan of science fiction.
A programmer wins a contest to visit his company's brilliant billionaire founder on his remote compound. As it turns out, that founder's been developing an A.I. with a realistic synthetic body and needs someone else to help … test it. Ex Machina goes from quirky to strange to creepy to horrifying with enough cerebral tension to make you question whether you're a human yourself.
I didn't know what "edge of your seat" really meant in terms of thrillers until I saw Ex Machina in the theater. Anyone who enjoyed Alex Garland's Annihilation will probably like this, his previous feature, even more — it's a master class in pacing and tension for any fan of good film.
Past Updates: