'Rick and Morty' Destroys Yet Another Universe With Toxicity
The toxic counterparts to Rick and Morty nearly destroy the world permanently.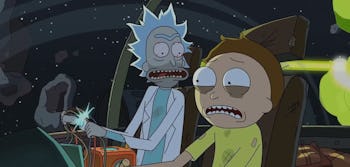 Adult Swim
The toxic parts to Rick and Morty's subconscious destroy the world in "Rest and Ricklaxation," which also happens to be one of the series' most disturbing episodes in the weirdest way possible.
Rick and Morty's harrowing Star Wars: A New Hope-style adventure finally pays off in Season 3's "Rest and Ricklaxation, in which the two characters go to a spa to detox after nearly dying just to get a plasma shard in the Abadango Cluster from a princess. (You might remember the rough sketch back in December that drove them both crazy.)
See below: 4 'Rick and Morty' Fan Theories You Should Know
The alien spa is a weird collision of last week's deathless resort and the marriage counseling from Season 2. Whereas the latter created projections of each character based on subconscious thoughts; in "Rest and Ricklaxation" a psychological detox machine "removes all cognitive toxins to purify your system."
What actually happens is that the toxic parts of Rick and Morty get banished to some toxic nether realm. The original bodies return to regular life, but they're upbeat and chipper to a disturbing extent.
While Healthy Rick admits love for his family, and Healthy Morty becomes more of a hit at school than Tiny Rick was, Toxic Rick and Morty put the characters' worst features on display. Toxic Rick proclaims himself a god, and Toxic Morty is left to whimper and weep, and they're able to break out of the toxic realm to wreak havoc on the real world.
Few things are more unsettling than seeing Morty cracking jokes that make his whole math class burst out into laughter, and for Jessica to actually come on to him. When Healthy Rick senses that something is awry and detects Toxic Rick on some radar, Healthy Morty says, "The only problem here is a big fat brain that misses eatin' all those big fat problems." It's cringeworthy, but it's Healthy Morty who gets real and calls his Rick counterpart a "useless old turd" to get him into the fight.
It's even more outlandish when Healthy Rick apologizes for trashing the house and offers to make it up to Beth and Summer by picking some basil in the garden and making some scaloppine. Yeesh.
Weirdly enough, we almost root for the toxic versions of these characters, even when they push the limit for how many times Rick can call Morty a "piece of shit." Toxic Rick succeeds at toxifying the entire world, but it's not a permanent change.
Healthy Rick correctly diagnoses that Toxic Rick has all of his "entitlement, narcissism, crippling loneliness, and irrational attachments," which just so happens to include his codependent relationship with Morty. The impending death of Toxic Morty then becomes the bargaining chip that's used to get them to re-merge.
"Rest and Ricklaxation" marks yet another instance of Morty being super capable in Season 3 but, more importantly, of Rick himself becoming the principal villain in a story arc.
Healthy Morty initially refuses to re-merge with his pathetic, toxic part. In a few short weeks, he becomes a veritable Wolf of Wall Street, "capitalizing on his lack of a conscience by becoming a stock broker." But Rick also assesses, based on Morty's dope apartment, that he's also kind of a "tiny American Psycho." Morty toting an apple is also a nice nod to his father's failed ad campaign.
The quiet moments of world-building are when Rick and Morty get really fucked up. In last week's "Whirly Dirly Conspiracy," it's when a child shoots its sibling in the head. Here it's toxified regular people who run from Saladworks to Sbarro's or who erupt in church brawl deeply reminiscent of Kingsman.
In the end, Rick and Morty resumes its status quo, but Jessica says that she's glad Morty has returned. Could things be looking up for Morty's chances with his long-time crush?
"Rest and Ricklaxation" included almost all of the remaining scenes from the Season 3 trailer released back in June. So the rest of the season will go to entirely new places, which apparently include the underwater city of Atlantis?
Rick and Morty Season 3 airs Sundays on Adult Swim at 11:30 p.m. Eastern.