Eggsy's Tailor Blows Up in 'Kingsman: The Golden Circle' Trailer 
The American equivalent of the Kingsman also make their debut.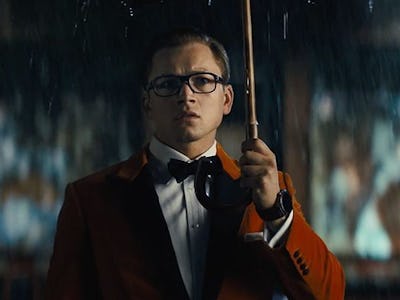 The first full trailer for the follow-up to 2014's surprisingly fun ride, Kingsman: The Secret Service, dropped last night on The Late Late Show with James Corden. Eggsy (Taron Egerton) is back with Merlin (Mark Strong) at his side for tech support and strategic planning. The trailer also features the long-teased return of Colin Firth's Harry Hart, who was, you know, shot right in the face in the first movie — which explains the eye patch, we suppose.
Without giving too much away, the trailer does a solid job at montaging the ludicrous action sequences and insane gadgetry that made the first film such a delightful pastiche of the spy movie genre. Bulletproof three-piece suits sure do return, but in the titular tailor, the Kingsman gets blown up (as does the Kingsman HQ for that matter). Perhaps most interesting is the introduction of the American equivalent of the Kingsman, called the Statesman. Rather than have their codenames be that of noble knights, the Statesman instead opt for call signs named after various kinds of liquor — which is about the most American thing we've ever heard of.
Oh, and there's a guy with a villainous henchman with a robotic rocket arm.
Check out the trailer here.
The Statesman team is rounded out with Channing Tatum as Tequila and Pedro Pascal as Jack Daniels / Whiskey, with Halle Berry as Ginger, their tech support, and Jeff Bridges as their leader Champagne "Champ." Each of the Statesman agents has a flashy cowboy look and gaudy clothes, but that just makes it all the more fun. The film will also feature Julianne Moore as Poppy, the criminal mastermind and chief villain who's trying to establish a New World Order.
Kingsman: The Golden Circle hits theaters September 22.