Jerry From 'Rick and Morty' Finally Got a Win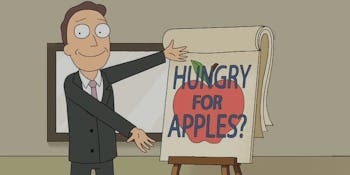 Adult Swim
Jerry is such a pathetic flop of a human being that he experienced the best day of his life in an alien simulation running at just 5 percent capacity in the Rick and Morty episode "M. Night Shaym-Aliens!" That's the episode where a bunch of glitchy simulated advertising executives went crazy for his big pitch: "Hungry for Apples?" In the real world, though, he was laughed at and fired when he pitched the idea to his actual bosses.
Well, look who's laughing now? Jerry's "Hungry for Apples?" ad is finally a real commercial. Adult Swim, which has been releasing a steady stream of delightfully weird claymation teasers for the upcoming third season of Rick and Morty, apparently made a live-action "Apples" commercial as well. The video was posted by YouTube user "Not Justin Roiland," so it's definitely not the real series co-creator Justin Roiland. Wink.
As for the ad itself? Well, Jerry's an idiot, but I'll be honest — I've seen worse commercials.
There's also a live-action commercial for St. Equis, the horse hospital where Jerry's now ex-wife Beth works. The commercial boasts that the hospital is "good enough for you, but just for horses."
Rick and Morty Season 3 resumes on Sunday, July 30.