'Rick and Morty' Season 3 Finally Has a Premiere Date and Trailer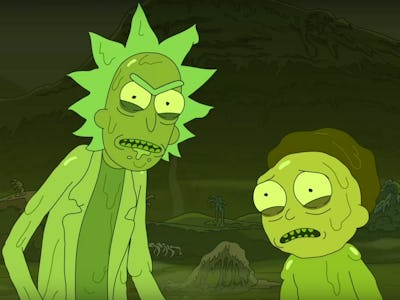 Adult Swim
Finally, Rick and Morty Season 3 has a premiere date and a trailer!
After a long wait following Season 2, and a surprise airing of the third season's first episode on April Fool's Day, the rest of Season 3 will premiere on Sunday, July 30.
Series creators Dan Harmon and Justin Roiland broke the news (after trolling the live audience for a bit) during a live stream event on Thursday night — and they shared a trailer.
The trailer reveal came close on the heels of the premiere date announcement, prompting Roiland to worry that they shouldn't show the trailer that early in the stream, because, how could they top that? And indeed, the trailer looks buck wild. "Only a show this smart can be this stupid," a voiceover in the trailer says, atop scenes from the season premiere, a finished version of the Pickle Rick fight scene we've already seen an animatic of, and a lot of scenes of Summer being a frickin' badass.
Check it out below.
Adult Swim announced a Rick and Morty live stream event on Monday, though they didn't reveal any details about what to expect other than that it would feature the series creators at the end of a full marathon of the show's first two seasons. The bulk of the live stream event featured the pair, along with storyboard artist Erica Hayes improvising a new episode, live with Brandon Johnson — who voices Mr. Goldenfold on the show — voicing other characters.
During the event, Harmon explained that Season 3 took so long because, basically, he and Roiland took too long writing it, which pushed back the animation schedule. "We took way too long. Now they're drawing it," he said.
Also, the pair hinted that there's going to be a fourth season before backing off after mentioning it offhand. "Season 3 or 4 … not to say that there's a 4," Harmon said. "There's a PR person freaking out right now."
But before we get to all that, rest assured knowing Rick and Morty Season 3 will finally premiere on July 30 at 11:30 p.m. Eastern.