There's a Surprise 'Rick and Morty' Live Stream on Thursday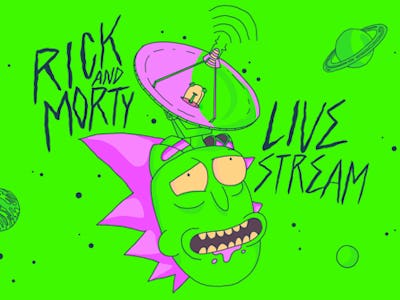 Adult Swim
Update: Adult Swim has released a trailer for the live event, which reveals that it will be preceded by a marathon of every episode from the first two seasons of Rick and Morty. The live stream is described as "the second-best thing to actually having new episodes for you to watch," so maybe don't hold your breath expecting brand new Rick and Morty episodes.
Rick and Morty keeps its fans on their toes. After a lengthy, agonizing wait for any news about when Season 3 would premiere, Adult Swim went and dropped the first episode out of nowhere on April Fool's Day. Now, we're back to waiting for the rest of the season to air, but a just-announced live stream event might bring some schwifty new developments.
On Thursday, June 29, Adult Swim is throwing a "live, spontaneous evening of Rick and Morty" with series creators Justin Roiland and Dan Harmon. "It all starts at [9 p.m. Eastern] on AdultSwim.com," a press release explains. "Don't miss it. Or be late. Trust us."
Tickets for the IRL live event, which will be held somewhere in Los Angeles, sold out almost instantly.
It's unclear what, exactly, is going to go down during this live stream. It could be new episodes — or at least word about when we can actually expect them. It could also just be Roiland and Harmon fucking around for a while, which wouldn't be the worst thing in the world.
It's worth noting that Adult Swim hosted a somewhat similar event ahead of the Season 2 premiere of Rick and Morty, though circumstances aren't exactly the same here.
In any case, tune into the live stream at 9 p.m. Eastern on June 29.