How to Watch the 'Rick and Morty' Season 3 Premiere If You Missed It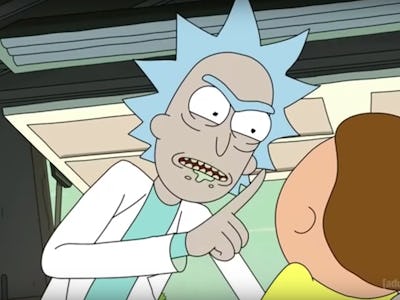 April Fool's Day is normally a nightmare of lies and announcements that sound too good to be true, but this year, Adult Swim came through in a big way. On Saturday night, the network started streaming the highly anticipated Season 3 premiere of Rick and Morty with no advanced warning and seemingly no explanation other than, well, it was April 1. Unfortunately, April 1 fell on a Saturday, meaning that many fans were probably out for the night and unable to stream the surprise episode, which stopped repeating at midnight.
Luckily, there are still lots of ways that you can watch (and re-watch) the first episode ahead of the third season's real premiere date this summer.
Adult Swim is going to air the premiere, "The Rickshank Redemption" every night this week at 10 p.m. Eastern, for those of you with cable.
Meanwhile, Adult Swim's website is streaming a marathon of the entire series, including the premiere. Tuning in right when the premiere airs is a bit of a crapshoot, since there are 21 other episodes. But, hey — the worst case scenario is that you're still watching an episode of Rick and Morty.
And, well, if neither of those methods strikes your fancy … let's just say that if you search for "Rick and Morty Season 3 Episode 1" on YouTube, you won't be disappointed.