Musk Reads: Crew Dragon is transforming NASA research
Starship takes shape ahead of the big launch; NASA praises Crew Dragon tests; Starlink could help fund a Mars city.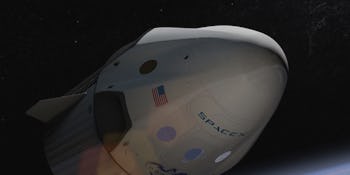 Starship takes shape ahead of the big launch; NASA praises Crew Dragon tests; Starlink could help fund a Mars city. It's Musk Reads: SpaceX Edition #106.
A version of this article appeared in the "Musk Reads" newsletter. Sign up for free here.
Musk quote of the week
"Sure. Have to do it on Mars from beginning. Will ultimately do that on Earth too, so rocket flights will be zero net carbon long-term."
SpaceX Starship
SpaceX is making big progress on its first Starship prototype. Ahead of the big presentation on September 28, where Musk is expected to unveil a full-size prototype of the Starship Mk.1, the CEO has been sharing details of how the stainless steel behemoth is coming together. On Sunday SpaceX added the rear moving fins at the Boca Chica facility in Texas.
Although it looks relatively unfinished with just six days to go, Musk reassures readers that everything is going according to plan. The three Raptor engines have already been installed on the bottom half of the rocket. The top half, with the forward fins and the header tanks, are expected to be installed on Wednesday. The team has not closed out the ship yet as it's still building hardware into the tip of the fairing, like composite pressure vessels and large batteries. Musk explained that this has been placed in the nose tip to balance with the weighty engines and rear fins.
The Starship is SpaceX's most ambitious vehicle to date. It promises to send humans around the moon, to the surface of Mars, and possibly even further out with refueling technology. But one of the under-discussed features is the ability to travel point-to-point to some of the Earth's major cities in less than an hour. Musk has suggested that the Saturday presentation will cover this feature in further detail.
In other SpaceX news…
SpaceX's research is changing the way parachutes are being developed, NASA revealed last week. The agency shared an update on the Commercial Crew Program last Tuesday, which explained how the parachutes designed for the Crew Dragon are making new discoveries about future engineering. SpaceX's vehicle is designed to eventually send astronauts to and from the International Space Station, and the craft uses two drogue parachutes and four main ring-sail parachutes. The firm has completed 30 drop tests and 18 system-level tests of their system over the last four years.
One success of the project, NASA explained, was how the pair have a greater understanding of the "asymmetry factor," where varying loads could influence deployment. When a group of parachutes deploys, one could open first and create an uneven load that could cause the other parachutes to fail. NASA praised a highly-publicized failure in April, where SpaceX tested one parachute failing only to find that all four failed, as "ultimately provid[ing] a better understanding of parachute reliability."
Musk praised the team via Twitter:
Great work by SpaceX parachute engineering! The Crew Dragon parachutes are way more difficult than they may seem. The Apollo program found them to be so hard that it became a notable morale problem!
Starlink, SpaceX's planned satellite internet constellation that could eventually number around 12,000 crafts, could help fund a city on Mars. A report from Morgan Stanley Research suggested that SpaceX could be worth $52 billion, a figure that could drop to $5 billion or soar to $120 billion depending on the success of the constellation. If successful, Starlink could prove highly lucrative: Musk told reporters in May that global internet connectivity offers around $1 billion annual revenue, and SpaceX could claim between three to five percent of that. The money could be used to fund the Mars city project, something Musk has claimed would cost between $100 billion and $10 trillion. Read more.
What's next for SpaceX: SpaceX is expected to hold a presentation on September 28 at the Boca Chica facility in Texas, where it will explain more about next steps for the Starship. The event marks the anniversary of SpaceX's first trip to orbit.
Originally scheduled for August 24, the event was delayed as Musk explained that it would "probably make sense to do this when Starship Mk 1 has 3 Raptors, moving body fins & landing gear installed." Musk stated that he plans to meet community supporters around the presentation on the 28th.
Video of the week
Musk shares Starship raceway and flap hinge aero covers rolling out.
The Elonporium
Subscribe to Inverse Loot and learn about these deals first.
The ultra-fine print
This has been Musk Reads: SpaceX Edition #106, the weekly rundown of essential reading about futurist and entrepreneur Elon Musk. I'm Mike Brown, an innovation journalist for Inverse.
A version of this article appeared in the "Musk Reads" newsletter. Sign up for free here.