SpaceX Shows Intense Crew Dragon Tests Ahead of First Manned Mission
The company has conducted over 700 tests.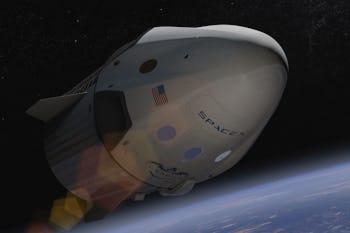 SpaceX/Flickr
SpaceX's Crew Dragon is gearing up to take on its next major challenge, ahead of its first mission that will launch astronauts for the first time.
On Thursday, SpaceX revealed that the capsule's SuperDraco engines have completed over 700 tests. Each capsule is fitted with eight engines, and SpaceX claims the setup can move the whole capsule half a mile in 7.5 seconds when all fired together. That's equivalent to a peak velocity that reaches 436 mph.
The company's human-carrying capsule forms part of NASA's Commercial Crew program, a new plan to ferry astronauts to and from the International Space Station using commercial spacecraft. SpaceX is working alongside Boeing, which is developing the CST-100 Starliner, to help NASA move away from buying seats on Russian rockets and move launched a bit closer to its base of operations.
It all seems impressive, but SpaceX is racing against the clock. The Government Accountability Office warned in June that NASA needs a backup plan if SpaceX and Boeing fail to meet their deadlines, with the chance that the agency's contract expires with Russia's Roscosmos before the crafts are ready.
Watch SpaceX test its SuperDraco thrusters in this clip reel shared Thursday:
SpaceX Crew Dragon: Getting to a Manned Mission
When SpaceX completed its "Demo-1" mission in March this year, it sparked a key milestone in the company's race to send humans into space. The mission sent 400 pounds of cargo to the space station, plus a dummy called "Ripley" equipped with sensors to help understand how humans move through space. The mission was the first time that a commercially-built capsule designed for humans autonomously docked to the station.
The next step, as outlined by NASA, is to hold an in-flight abort test. This would use the SuperDraco thrusters to demonstrate that the capsule could escape from a booster during a flight in an emergency, a key aspect of the capsule's safety measures.
After that would be a "Demo-2" mission. Robert Behnken and Douglas Hurley have been training for the upcoming mission to become the first astronauts to fly in the Crew Dragon, and the first astronauts to fly in a SpaceX vehicle. Hurley and Behnken were photographed getting to grips with the capsule's systems at the SpaceX headquarters in Hawthorne, California last month.
It sounds like a straightforward process, but it's perhaps easier said than done. In April, SpaceX held a test that resulted in a severe anomaly with the thrusters. Around 100 milliseconds before they were due to fire, nitrogen tetroxide entered high-pressure helium tubes and caused a titanium component to fail. In another test that same month, the capsule's parachutes failed to deploy.
"Their teams are fully engaged, we are understanding this," Bill Gerstenmaier, NASA's associate administrator of human exploration, told the U.S. House of Representatives' science, space and technology committee in a May hearing where the parachute failure was publicly revealed. "This is a gift to us. We have gotten data that is unique, that will help us design and understand if this is something that needs to be fixed, or if this is something that was just a nuance of the test and the configuration."
Gradually, it seems SpaceX is making progress toward "Demo-2." At a meeting of NASA's Aerospace Safety Advisory Panel on September 6, panel member George Nield stated that SpaceX is making good progress toward solving some of the key issues like affirming the safety of load-and-go fueling with the crew on board, and understanding the composite overwrapped pressure vessel.
"On the technical side both providers have work remaining on parachutes," Nield said in remarks reported by Ars Technica space editor Eric Berger. "Math models traditionally used by the parachute community may not accurately predict the margins. Additional parachute tests are needed."
SpaceX will need to resolve these issues soon. The Government Accountability Office's report warned that NASA could find itself in a difficult situation if its contract with Roscosmos expires without another way to reach the space station.
The race is on for a new, commercially-driven era of space operations. As SpaceX plans to send humans around the moon and to a base on Mars, it could spark the start of even more ambitious missions.