Elon Musk Says SpaceX's Starship Is Getting Ready to Fly
It could happen as soon as next month.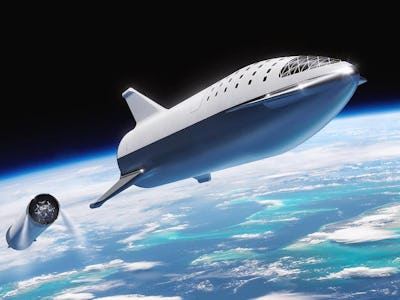 SpaceX/Instagram
According to recent reports, SpaceX's Starship is getting ready for flight. SpaceX has filed applications with the FCC to set up communications with the rocket and will soon receive permission from the FAA to alter its South Texas launch facilities so the rocket will be able to launch from there.
Elon Musk himself tweeted that the Starship "getting ready for flight." Musk has said the first flight could happen as soon as October.
If you're not yet familiar, the Starship was designed by SpaceX to send humans to Mars. The shuttle will first take a small group of humans on a trip around the Moon, possibly by 2023, and then a manned trip to Mars could conceivably take place the year after.
Based on the applications that have been filed by SpaceX, the company plans to fly a lot higher than it did when it tested the Starhopper (a prototype for the Starship) last month. Instead of going about 500 feet into the air, the next test will reach an altitude of over 65,000 feet, and the rocket will land near where it lifted off. Soon after, Musk has claimed, they'll try to take these rockets into orbit.
The Starhopper lifts off using a single Raptor rocket. These rockets use methane as fuel, which is useful because it may be possible to extract methane from Mars upon landing there for the trip home. The orbital prototypes SpaceX is developing in Florida and in Texas, Starship Mk1 and Mk2, will each use at least three of these rockets, so imagine three times the power of what you see in the video above.
Musk is committed to making SpaceX the pioneer in reusable rockets, as he has shown with the company's Falcon 9 and Falcon Heavy rockets, and this project is no different. Musk has stated that he hopes the Starship rockets will be able to be used at least 1,000 times each.
Musk claimed last month there should be an official update on what's happening with the Starship on September 28, which is the anniversary of SpaceX reaching orbit.