Project Titan: Apple's Latest Hire Suggests Its Car Could Be Tesla-Esque
The car is possibly Apple's worst-kept secret.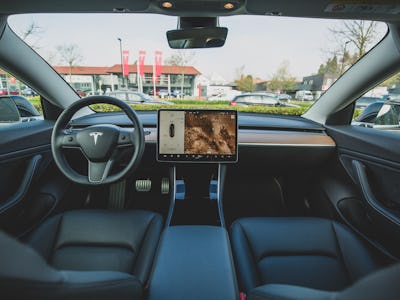 Unsplash / Bram Van Oost
Is Apple's car going to take inspiration from Tesla? The iPhone maker has hired Steve MacManus, former vice president of engineering at Tesla, for a senior director role. The change, discovered Monday, is the third time in 12 months that a Tesla engineering executive has revealed a move to Apple.
MacManus' move, first spotted by Bloomberg through his LinkedIn profile, suggests Apple could leverage his expertise in engineering car interiors and exteriors. The two companies have a number of overlaps in design philosophy, which means Apple's ongoing autonomous car foray "Project Titan" could bear similarities to Elon Musk's electric car lineup.
It's the third such hire over the past year. Doug Field, who oversaw Tesla Model 3 operations, reportedly joined the firm in August 2018. Michael Schwekutsch, who previously oversaw Tesla's electric powertrains, moved in March 2019 to become Apple's senior director of engineering. Beyond executive-level hires, Apple hired Tesla senior manager of design Andrew Kim in December 2018.
One of Silicon Valley's Worst-Kept Secrets
Apple's mysterious car project is perhaps one of Silicon Valley's worst-kept secrets. CEO Tim Cook essentially confirmed the rumors in a June 2017 interview, describing autonomous systems as "the mother of all A.I. projects."
"We're focusing on autonomous systems," Cook said then. "We sort of see it as the mother of all A.I. projects. It's probably one of the most difficult A.I. projects to work on."
The California Department for Motor Vehicles names Apple as one of the firms cleared to test autonomous cars on the roads. A prototype vehicle was spotted in October 2017, and Apple released its first autonomous car research the following month.
Tesla and Apple: Kindred Spirits?
Tesla and Apple's designers speak in similar tones about what makes good product design. Jony Ive, who headed up iconic Apple products like the iPod, iPhone and iPad, regularly praised legendary Braun designer Dieter Rams.
Ive wrote a foreword to a book about Rams, and praised the simplicity of his products: "at a glance, you knew exactly what it was and exactly how to use it."
This fed into Apple's product designs through the years. Its MacBooks used a seamless aluminum unibody design, removing the kinks found in traditional computers. The iPhone and iPad both resemble simple slabs of glass, ready for an app developer to bring their creations to life. Ive told the Smithsonian Magazine that "we're trying to get the object out of the way," creating devices that disappear in use.
Tesla follows a similarly minimalist approach in its designs, ditching complex arrays of dashboard buttons in favor of giant touchscreens. The car's handles retract into the body on premium models, while current prototypes of the second-generation Roadster lack side mirrors:
Franz von Holzhausen, who designed the company's three most recent cars, said in May 2018 that the Model 3 is "based on the idea of minimalism, that less is more…extra buttons, extra switches are just excess."
Both companies have been criticized for their designs in the past. Recent MacBooks use USB-C in place of standard-sized USB ports and display connectors, asking users to rely on dongles. The iPhone dropped the headphone jack when the iPhone 7 launched in 2016. The Tesla Model 3 has no instrument cluster behind the steering wheel, which Musk justified by saying the car was built for autonomy where the passenger doesn't need to know the speed.
It's unclear what form Apple's car will take, but patents suggest the firm has a number of big ideas in mind. One patent from April 2018 shows users fighting zombies and hang gliding in virtual reality. Another shows a smart seat belt concept. Another looks at using cooling systems to improve a battery's performance.
Although it sounds like there's a lot of overlap between the two firms on current interests and design ambitions, Musk responded to a question about a partnership in May 2017 with one word: "Ha!"