Apple's Patent Lets You Fight Zombies and Hang Glide in VR in Autonomous Cars
Why not carpool with zombies?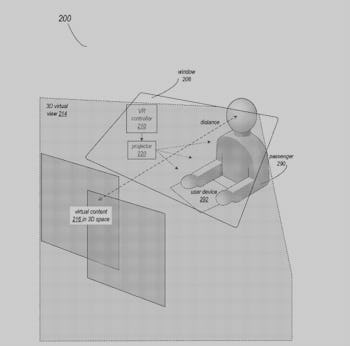 United States Patent and Trademark Office
Apple has applied to patent a virtual reality system for autonomous cars that would alter the car's interior through the use of VR headsets and screens. This is intended to help passengers fight car sickness … and zombies.
On Thursday, the U.S. Patent and Trademark Office published Apple's request, which was submitted in September 2017. The patent was pitched as a way to "address problems with vehicles in motion that may result in motion sickness for passengers" by replacing street views with a virtual environment.
The patent reveals much about Apple's vision for autonomous cars and virtual reality. An autonomous vehicle could be windowless and use an "active seat" and motion sensors to incorporate the car's real-world driving into a VR experience. Tiny cars could feel spacious. Passengers could imagine themselves on a private beach instead of commuting to work. And don't forget the zombies. The patent talks a lot about zombies.
"Passengers may choose to have relaxing virtual experiences," the patent reads, "such as floating down a river or soaring over the landscape in a hang glider, or exciting virtual experiences such as a car chase or driving through a post-apocalyptic wasteland with zombies attacking … if the vehicle stops at a red light or for some other reason when fleeing zombies … the virtual experience may cause the vehicle to appear to stall and not allow the car to be restarted until the light turns green to build suspense."
Apple was once thought to be developing autonomous vehicles under the codename "Project Titan" but has made multiple changes in strategy, pivoting from manufacturing cars to building new driving systems. However, VR was not a known aspect of the company's plans until now.
Apple is part of an already crowded race to bring autonomous vehicles to the market, but few others are seeking ways to swap battling motion sickness with battling zombies.