Apple Patents Hint at a Surprising, Solar Powered Smart Car Accessory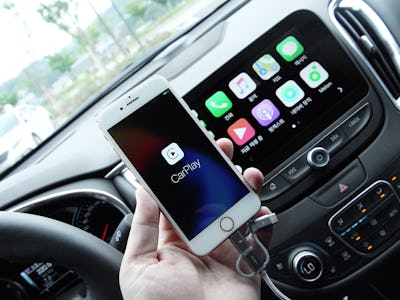 Flickr / TheBetterDay
Some recent restructuring within "Apple's autonomous driving unit," made it look like the company was starting to shift its in-house A.I. talent toward other endeavors. But a newly published patent filing provides evidence that the Cupertino-based company is still very much at work on an automotive product, or perhaps ecosystem of smart products, that have been rumored to launch some time around 2023.
Most recently, the company was granted a patent for a smart seat belt concept by the United States Patent and Trade Market Office that was published Tuesday. The proposed device would function almost like a smartwatch. Apple's blueprints reveal it could pack gesture-sensing technology, biometric sensors, speakers, a microphone, and a display.
Here's the patent:
"An augmented safety restraint may be configured to: secure the passenger within the vehicle; provide holistic monitoring of passenger status; supply entertainment and comfort; allow communication or interaction between the passenger, vehicle, and other passengers within the vehicle; and generate power sufficient to run the aforementioned capabilities. These features allow for enhancement of passenger activities, improved interaction with the vehicle and/or other passengers, and energetic autonomy while at the same time meeting regulatory safety requirements."
The seatbelt detailed in the documents basically puts a sophisticated version a car dashboard right on your chest. It will leverage gesture controls and smart fabric technology — two concepts that the company has patents for already — to let users control their entertainment and communication capabilities.
Instead of having to reach for knobs on the dashboard, it seems like the smart seat belt is supposed to let users adjust volume or temperature settings by simply waiving their hand or making another gesture. As with a lot of forward-looking automotive patents, Apple's seatbelt idea looks to when cars will be more completely autonomous, and passengers will need a sort of remote control to flip through TV channels or browse the web while being driven their destination.
Apple Has some other feature ideas for its seatbelts. The patent also notes that its biometric sensors will be able to detect: "passenger's heart rate, breathing rate, temperature, CO level, blood alcohol content." The patent also specifically states that it would prevent users from driving if they've had too much to drink, which is a good idea that could probably save a lot of lives.
The most interesting thing about the seatbelt may be how it will eventually be powered, that is, by using solar energy. The blueprints also detail that the seat belt would include "photovoltaic devices" to soak up energy when the car is parked. That may be a nod to a future problem in with autonomous driving tech that doesn't even exist yet: How to run all these powerful entertainment options without draining the actual car itself's battery.
There have been a number of other car related patents in the last few months. In September, the USPTO published an Apple patent regarding A.I.-powered headlights. These components could complement the augmented reality vehicle interface that Apple has been said to be developing.
While it still looks more like Apple is interested in developing accessories, as opposed to rolling out some kind of futuristic "Apple Car," the list of possible devices is looking more in-the-weeds than we might have expected. Obviously Apple was going to be interested in finding ways to make it easier to use their services like Apple Music on the road. Seatbelts and headlights, however, seem like auto parts that Apple would leave to traditional suppliers. Project Titan may be more wide-ranging than the documented setbacks have led us to believe.