Musk Reads: Tesla Solar Roof Hands-on Experience
Plus, SpaceX Starman gets a friend and Tesla Pickup Truck comes early.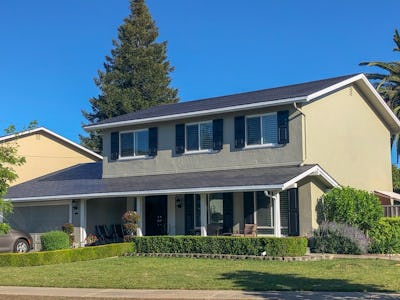 Amanda Tobler
An early Tesla Solar Roof adopter details the first year; Tesla Pickup Truck comes early for one modder; and SpaceX's Starman gets an unexpected guest. It's Musk Reads #83.
Musk Quote of the Week
"10 years ago, SpaceX server room was named Skynet as a joke. Fate 🖤 irony."
Tesla
The Tesla Solar Roof has completed its first year on the market. Amanda Tobler, one of the first buyers of the solar-harvesting panels, explained to Inverse this week how the tiles had transformed her home. The Powerwall, although a tad temperamental, had ensured the home never experienced a power cut. The family also ended the year giving more energy to the grid than they took, even with two electric vehicles in the garage. It comes as Musk gears up to launch the third-generation tiles, promising even cheaper prices. Read more.
In the absence of a Tesla Pickup Truck reveal, one YouTuber has taken matters into their own hands. Simone Giertz retrofitted her Tesla Model 3 to transform it into a more outdoorsy vehicle, spending a year on the work. She chose to retrofit the Model 3 due to its aluminum chassis versus the steel design of the Model S. Musk has previously stated that the actual Tesla Pickup Truck will be unveiled in the summer. Read more.
What's next for Tesla: Federal tax credits on new Tesla vehicles are set to halve to $1,875 in the United States on July 1. The moment has been described as "when the rubber meets the road."
SpaceX
Starman, the SpaceX dummy on a journey toward Mars in a red Tesla Roadster, briefly received a new friend. Tomsk State University in Siberia launched a red toy car into space, complete with a cutout resembling Dmitry Rogozin, head of Roscosmos. It's the longest "stratosat" flight undertaken by any country of the former Soviet Union since 2013. Unfortunately, while Starman is still on his journey, the university's flight lasted just 16 hours. Read more.
What's next for SpaceX: SpaceX is set to launch the Falcon Heavy on the Department of Defense's Space Test Program-2 no earlier than June 24 at 11:30 p.m. Eastern time. It will be the first time that the Heavy will reuse two cores from a previous mission.
Video of the Week
Tesla Model 3 becomes a Pickup Truck:
The Ultra-Fine Print
This has been Musk Reads #83, the weekly rundown of essential reading about futurist and entrepreneur Elon Musk. I'm Mike Brown, an innovation journalist for Inverse.