Tesla Solar Roof: Elon Musk Reveals New Time Frame for Ramp-Up
You may have to wait a while for your tiles.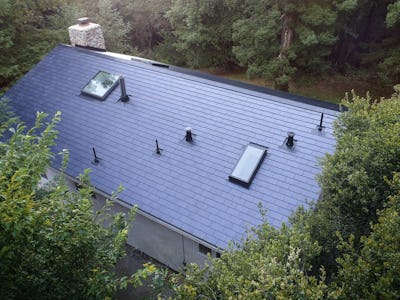 Tesla
Tesla's solar roof could take a while to come to your home. During the company's first-quarter 2019 earnings call Wednesday, CEO Elon Musk explained that the company will move slowly with manufacturing the energy-harvesting tiles to ensure the design will last for decades.
"We are looking forward to scaling that up significantly through the balance of this year and next," Musk told investors.
This is a slight shift from previous comments. While the tiles have only received a handful of public installations starting in early 2018, Tesla stated in its previous quarterly letter in January that "we plan to ramp up the production of Solar Roof […] during 2019." Musk declared in March that 2019 would be the "year of the Solar Roof." The CEO clarified on Monday that it expects to "spool up production of the solar tile roof significantly later this year." Musk's latest comments suggest this ramp-up could extend into 2020.
Musk has stressed before that manufacturing is tricky to outline. When he announced the $35,000 Model 3 electric car, he explained that while production started in March, it won't reach volume until the middle of the year, adding that it's "extremely difficult to predict middle part of manufacturing S-curve." This difficulty led to Tesla severely missing its original Model 3 manufacturing targets, where it expected to produce 2,000 cars per week in December 2017 but only produced around one-tenth of that.
The issue with the roof is ensuring that it will last for as long as expected. The solar tiles cost $42 per square foot, plus $11 per square foot. The recommended mix of 35 percent solar to non-solar means it costs around $21.85 per square foot for a roof. They're a serious investment designed to replace a roof, and they're built to last using a tempered glass material three times stronger than slate or asphalt.
"That necessarily takes a while to scale-up because we have to be confident that the Solar Roof is going to last for on the order of 30 years, and because the warranty is to 20, 25 years," Musk explained. "The rate at which you can iterate on Solar Roof is necessarily slowed down according to the rate which you can do accelerated aging on the roof, and we want the installation process to be simple and easy. I was just actually at the Tesla Buffalo factory a few weeks ago, and I was pretty impressed with the team."
Musk confirmed in the call that "we are on version 3 of the design." This design, which Musk also mentioned on Monday at Tesla's Autonomy Investor Day, may be linked to improvements mentioned in the company's January earnings letter. The firm said it would continue installations at a slow pace to "gather further learnings from our design changes" and "about the viability of our installation processes by implementing them in areas around the US that are experiencing inclement weather."
For the sake of ensuring the product is ready for houses beyond California and other favorable climates, Tesla could benefit from a delay. Roberto Rodriguez Labastida, senior research analyst for Navigant, told Inverse in December 2018 that "[Tesla's] solar shingles are an interesting product, but I don't see why they will sweat to release them, as this is a niche market with little to no competition."
It's been nearly three years since Musk demonstrated the vertically integrated home of the future, with a Model 3 in the garage charging off a Powerwall topped up with Solar Roof energy. Although the rollout has been slow, Tesla may be about to finally bring its tiles to a broader market.