Apple's Autonomous Car Project Is Shifting in a More Ambitious Direction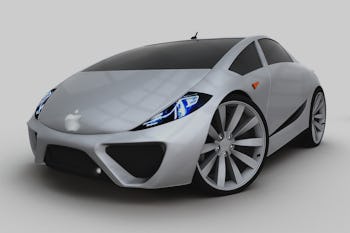 Apple Car
The Apple Car may come in the form of an electric van, a Thursday report claims. Reports around "Project Titan," the alleged codename for Apple's autonomy efforts, have gradually shifted in recent months away from aftermarket add-ons or accessories to something far bolder, covering a fully-fledged vehicle.
German publication Manager Magazin claims that Apple is focused on developing an autonomous electric vehicle. The report also claims that the project could encompass an electric van, with design specimens produced in black and silver paint choices "designed in the typical industrial design of the iPhone group." The company is also conducting research into in-house "batteries, electric motors, special seats and interior components." The report ties this recent shift to Doug Field, who served as Apple's former vice president of Mac hardware engineering before joining Tesla in 2013 and overseeing production of the Tesla Model 3. Field returned to his former employer and joined Apple's car project in August 2018.
See more: Apple Patents Hint at a Surprising, Solar Powered Smart Car Accessory
Unlike most Apple projects, the company has essentially confirmed the existence of its autonomous car project. The California Department of Motor Vehicles added Apple to its listof approved testers in April 2017. In June of that year, Tim Cook said that he saw"autonomous systems" as "the mother of all A.I. projects." The company appears to have moved away from a strategy that made headlines in October 2016, where it would develop an autonomous driving system and work with manufacturers to build in the capabilities into existing vehicles. In October 2017, a lidar-equipped Titan car was caught on video.
The company has made some bold restructuring moves. Last month, it dismissed 200 people from the project and teased work on "several key areas" for the coming year. It was also awarded a patent for a smart seat belt accessory that would function similar to a smartwatch. This month, data from California's Department of Motor Vehicles showed the firm sent 62 autonomous vehicles out last year, one of the highest for any firm in the state.
As for when it may launch? Apple analyst Ming-Chi Kuo placed a likely launch date around 2023. Kuo explained that the car will likely benefit from the company's work in augmented reality that's set to culminate in a glasses device in 2020.
Glasses or otherwise, it seems Apple's vision for the autonomous car is growing clearer by the day.