Man Says Experience with Elon Musk's Boring Company Changed His Life
Rodrigo Molina says it began with a $20 hat purchase .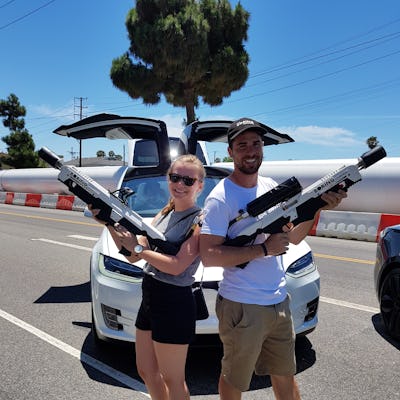 Rodrigo Molina
Rodrigo Molina is a 25-year-old from Murcia, in south east Spain. He studies management and marketing at the nearby Universidad Católica de Murcia, and he's also already something of an entrepreneur, having launched a company called Cannelle that uses essential oils to stop cinnamon sticks from breaking.
He is also among Spain's most ardent followers of Elon Musk.
Musk does not command the same levels of name recognition in Spain as he does in the United States, though. His friends and girlfriend, he says, never understood what all the hype was about. Molina's excitable Reddit post in January is a testament to his fandom — the announcement sees him claim to be one of 10 people who had won a visit to The Boring Company's first test tunnel in Hawthorne, California.
"I feel like we are in Charlie and the Chocolate Factory," Molina told Inverse months prior to the trip.
It's an apt comparison, for some. Musk has taken the role of company leader in a Willy Wonka-esque direction. Musk is known for approving new features on Twitter:
His companies and the machinery that brings these ideas to life seem to fade into the background of his public persona, giving the impression of a master inventor. For all the grousing over how he interacts with 22 million Twitter followers, nearly two million of them have subscribed in the past six months alone.
"If Musk is Willy Wonka, this was the equivalent of a Golden Ticket."
The Boring Company is a typical example of Musk's atypical approach to starting businesses. The digging venture was announced in December 2016 through a series Twitter posts lamenting the state of Los Angeles traffic. Declaring that "traffic is driving me nuts," Musk said he was "going to build a tunnel boring machine and just start digging." About an hour later, a follow-up tweet christened the firm. Two months later, a beaming Musk was on the front cover of Bloomberg Businessweek for his work on The Boring Company.
But there's more than big promises driving the entrepreneur's cult of fans. Musk notably weaves gratuitous pop culture references into his online persona, making references to cult sci-fi hits like Rick and Morty and Hitchhikers' Guide that seem perfect for appealing to nerds. In October 2017, Musk announced the sale of $20 caps emblazoned with its logo as a Spaceballs-themed method of raising capital. He declared two months later that the company would randomly choose a list of 10 of the 50,000 people who purchased limited edition caps to tour the site and drive the company's digging machine for themselves. If Musk is Willy Wonka, this was the equivalent of a Golden Ticket.
"I almost deleted the email," Molina says. Sitting with his friends in the library, it dawned on him that the cap he was wearing had just scored him a tour of Musk's new venture. "I started to freak out! It was quite difficult to stay quiet at the library."
As his friends greeted him with blank stares, Molina was ecstatic. Having started a company himself two years prior, Molina venerated Musk, and his story was quickly soon picked up by the Spanish press.
"It was quite funny, because they were kind of making fun that some guy from Spain is going to California to drive the boring machine," Molina says.
Undaunted by his quizzical countrymen, Molina didn't simply book the next trip to California, opting instead for a Musk-inspired, cross-country itinerary so he could also visit some of Tesla and SpaceX's key sites before attending the July 22 hyperloop pod competition and Boring Company tour. Here's what he did.
Getting from Spain to California
First stop: Miami, where the pair met up with Molina's brother and took a Tesla Model S P100D for a test drive. The Ludicrous Mode, another Spaceballs reference, thrust the car into instant power mode while the semi-autonomous Autopilot mode took over for the duller highway driving moments. Even his girlfriend, not a Musk enthusiast, was left impressed.
Tesla's Fremont, California factory was a stop on July 16, with a tour organized by Boring Company employees. The premises is amidst an aggressive expansion plan, to produce more than 5,000 Model 3 vehicles per week. The offices and meeting rooms were named after scientists like Einstein, and Molina described the "big-ass factory," a 10,000-strong workplace that's been operating for just eight years, as "insane."
"They were talking a lot of stories about the machinery they have there," he says, referring to the high levels of automation and robots. "I mean, it's insane. How do you manage everything at the same moment? It's like a symphony, you know?"
The winners gathered in Hawthorne on July 22 for the grand prize, on the same day that SpaceX hosted its third hyperloop competition just around the corner.
Despite his particularly hectic schedule, Musk did, in fact, make a surprise appearance during the event, accompanied by his five children and then-girlfriend, the musician Grimes. The podium was built out of bricks fashioned from dug-out dirt from the Boring Company tunnel, a new business aimed at cutting back on concrete production, which alone accounts for 4.5 percent of greenhouse gas emissions. The bricks are set to go on sale around November for 10 cents per unit, free for affordable housing projects.
"There are so many things in the world that cause people to be depressed about the future, or pessimistic," Musk told the teams in comments reported by The Verge. "I think one of the things that you're doing is making people excited about the future. Those things are rare. It actually energizes me about the future."
A Peek at the Tunnel
The hyperloop competition saw Musk in his element: engaging directly with other engineers who shared his excitement about the future. While other CEOs have tried to tap into the Steve Jobs-like ability to be a businessman with actual fans, none have been nearly so successful. People wear his merch, depict him in fan art and leap to his defense. In terms of social media fandom, he's in a league of his own — with about 10 times the Twitter following of the three major U.S. automakers combined.
That was the Musk who greeted those hat-buying fans, not the boss Musk of the late-night emails, but the Musk that Robert Downey Jr. sought out when seeking advice for playing Tony Stark in Iron Man.
The hyperloop grounds where Molina and the other winners gathered was the definition of carnival like: There was live music, unlimited free ice cream, and a Nintendo Wii-style 3D game where players have to fly an image of themselves through space.
After the hyperloop competition, the winners assembled for the grand prize: Their descent into the tunnel. Molina claims that only six of the 10 winners actually showed up, a group that included Electrek editor Fred Lambert from Quebec, Canada (who bought five hats to boost his chances of winning), plus winners from Texas, Florida, New Jersey and Australia. Some plus-ones bringing the total group to 11.
Held to Strict Secrecy
Molina and his fellow winners were held to strict secrecy, but Molina did share some details about the now functioning elevator that will move cars and passengers between the tunnel and the above-ground.
The system uses a Tesla-built skate that can transport up to 16 passengers or one car at speeds of up to 150 mph through a "loop" configuration, or 700 mph through a hyperloop. The Hawthorne City Council recently gave the thumbs-up to extend the test tunnel to a residential property, so the firm can build a proof-of-concept garage that lowers cars straight into the ground.
"They used it to bring us our new hats, so it was functional and looked the same as you may have seen in some videos online," he says. "I think it is a good first version. I hope we can see the final version soon on the streets."
The group topped their adventure off by feasting on some Boring Company marshmallows, toasted by the company's flamethrowers. The $500 devices went on sale at the start of this year, with a 14-ounce propane tank fueling a flame that skirts under the 10-foot legal limit. The devices, another Spaceballs reference, were limited to a one-off run of 20,000, with Musk delivering the first 1,000 in June.
What's to Make of Musk's Fans?
Musk's public image is hardly the same as it was when Molina opened that first Boring Company email nearly ten months ago. From his since jettisoned-proposal to take Tesla private to his decision to triple down on serious accusations against a Thailand cave diver without supplying any evidence, Musk's star has dimmed. But that doesn't seem to matter to Molina, who says that while he never met Musk he did feel like the expedition gave him a chance to meet his people.
"They are doing really big things, and there is a lot of really incredible people there working as well," Molina says. "They are not as famous as Elon, but now my impression of Elon and his company is that this is more real. Not like a hero, but really someone that is actually doing things."
Molina came back on July 23 to a whole new set of opportunities. He's become inspired by the people he met, the fascinating projects he saw and the ideas they were developing. His BI-Geek blog about his trip has also sparked a discussion about undertaking web development work for the company.
"I went there a little bit open minded about my future and what I was going to do with my life," Molina says. "I'm a little bit of an entrepreneur as well and I'm now working on developing a website as well with the sponsor, and that's all because of the trip and all because of the experience, so it has quite a lot changed my life."