Elon Musk Calls Thai Cave Hero 'Child Rapist' and Says He 'Hopes' He Sues
Musk previously described Vernon Unsworth as "pedo guy."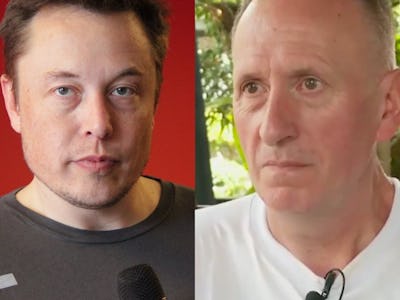 Twitter/QTRResearch and Flickr / TeslaClubBE
Elon Musk sent an aggressively confrontational email to a reporter that appeared to double down on pedophilia allegations against a British man involved in the July cave rescue of a Thai soccer team. The tech entrepreneur claimed in an email to BuzzFeed's Ryan Mac published Tuesday that Vernon Unsworth, who Musk previously described on Twitter as a "pedo," moved to the Thai city of Chiang Rai "for a child bride."
Musk did not appear to provide any evidence to Mac to back up his assertion, beyond reiterating his assertion that the region where Unsworth lives is "renowned for child sex-trafficking."
"I suggest that you call people you know in Thailand, find out what's actually going on and stop defending child rapists, you fucking asshole," Musk wrote in an email to Buzzfeed News. "He's an old, single white guy from England who's been traveling to or living in Thailand for 30 to 40 years, mostly Pattaya Beach, until moving to Chiang Rai for a child bride who was about 12 years old at the time. There's only one reason people go to Pattaya Beach. It isn't where you'd go for caves, but it is where you'd go for something else. Chiang Rai is renowned for child sex-trafficking."
Musk, who ended the email by writing "I fucking hope he sues me," prefaced the email with the phrase "off the record," a condition that the reporter says did not agree to prior to the email. Musk's second email also started with the phrase "on background," before claiming that Unsworth was banned from the rescue site. Richard Stanton, who Musk previously highlighted as another helper that urged him to continue developing the submarine, told the publication that Unsworth was "pivotal to the entire operation" and never removed from the site.
The emails are the latest in a saga that began when Musk tried to help with the mid-July rescue operation of 12 boys and a coach from Tham Luang Nang Non cave in Thailand. Musk developed a miniature submarine in Los Angeles that ultimately went unused. Unsworth, who claimed the vehicle "had no chance of working," dismissed it in an interview as a "PR stunt." Musk described Unsworth as "pedo guy" before betting a "signed dollar it's true." Musk deleted the tweets and apologized to Unsworth three days later.
In late August, Musk reignited the dispute by asking on Twitter "you don't think it's strange he [Unsworth] hasn't sued me?" before stating that "he was offered free legal services." However, L. Lin Wood shared with Buzzfeed News a letter dated August 6, sent to Musk's Los Angeles home, stating that he was preparing a civil complaint for libel on behalf of Unsworth.
Musk's previous comments have left investors irritated that scandals are pushing Tesla and SpaceX news out of the limelight. James Anderson, a partner at Tesla investor Baillie Gifford, told The Guardian that he was "frustrated that the real steps towards [the end of carbon] are being overshadowed and undermined by this saga."