Elon Musk Again Implies on Twitter British Thai Cave Diver Is a Pedophile
The tweet seems to double down on his most controversial statement.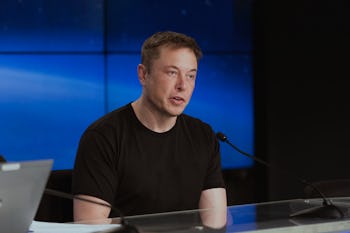 Wikimedia / BugWarp
After a quiet and relatively noncontroversial few days on Twitter, Elon Musk's confrontational social media presence was back with a vengeance on Tuesday.
The most notable tweet came in a confrontational exchange with the former journalist and Silicon Valley vet Drew Olanoff. After some back and forth, the outspoken CEO of Tesla and SpaceX sent a tweet that seemed to double down on what is arguably his most controversial statement: the implication, seemingly without any evidence besides his place of residence, that one of the cave divers involved in the viral Thai rescue efforts is a pedophile.
"You don't think it's strange he hasn't sued me?" Musk replied to Olanoff. "He was offered free legal services."
To give Olanoff's reply some context, this whole thread started in the replies to a Forbes contributor column valorizing Musk for being brave enough to cry during his a recent New York Times interview. Musk wanted to clarify that he didn't cry, his voice simply cracked, which is what prompted Olanoff to bring up Musk's dedication to facts and truth.
Because we're all staring at Elon's feeds 24/7 now, the New York Times editor in charge of the Musk story joined the fray, saying that Musk's tweet was untrue and that his emotion was indeed audible.
Musk's insinuation that British Thai cave diver Vernon Unsworth was a "pedo guy" was widely criticized, because it seemed to be based in no evidence besides his status as a European resident of a region in Thailand. Unsworth had also been vocally critical of Musk's efforts to aid in the Thai cave rescue effort, and he at one point said he was considering legal action. Musk's initial tweet was eventually deleted.