Elon Musk Met 'Rick and Morty' Stars, and the Results Are Awesome
Musk met with Justin Roiland and the rest of the team.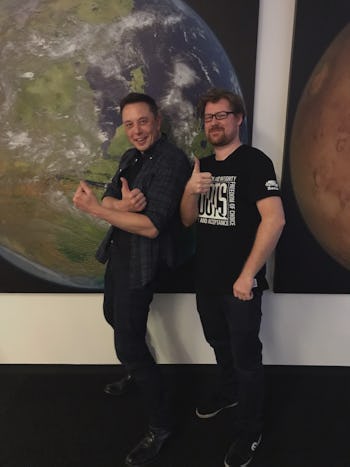 JustinRoiland/Twitter
Tech entrepreneur Elon Musk has finally met the team behind Rick and Morty, in a pairing already described by fans of the show as "awesome." Musk, a long-time fan of the sci-fi adult cartoon, described the season finale earlier this month as "disgustingly good," which sparked a conversation with the team.
"Thank you for being a humble genius, a dreamer, and a beacon of hope for humanity," Justin Roiland, co-creator of Rick and Morty and the voice of the two titular characters, said in a tweet sent Friday.
It's no secret that Musk is a big fan of the show. The guy may have a lot on his plate with trying to get humanity to Mars in a rocket ship, teaching electric cars how to drive themselves, and developing a neural lace to ensure humanity doesn't become enslaved to robots, but even he finds time to catch up with Rick and Morty.
The show's Twitter account also shared a picture of Musk and Roiland alongside writer Mike McMahan and co-creator Dan Harmon, the latter of which also voices Bird Person:
In the comments, tributes poured in for the pairing.
"Jokes aside he is one of my idols and I feel blessed to share the same generation as him," YouTuber Ethan Klein, who co-produces the channel h3h3Productions, said in response. "Elon is also pretty cool."
Musk, a big sci-fi fan that also follows Westworld and named one of his SpaceX ships after one in Douglas Adams' novel The Hitchhiker's Guide to the Galaxy, revealed recently that he watches Rick and Morty with his kids. Musk started speaking with the show's Twitter account earlier this month, after he weighed in on the final episode of season three.
"Thanks, E," the show's Twitter account responded. "Just riding this out until the singularity hits, you know?"
"The singularity for this level of the simulation is coming soon," Musk said. "I wonder what the levels above us look like. Good chance they are less interesting and deeper levels are better. So far, even our primitive sims are often more entertaining than reality itself."
This sparked a whole discussion between the two about simulation theory:
Potential guest appearance, anyone?
If you liked this article, check out this video on how to write an episode of Rick and Morty.