Elon Musk Is a 'Rick and Morty' Fan, Thinks It's Disgusting
Are Tesla car batteries powered by a microverse civilization?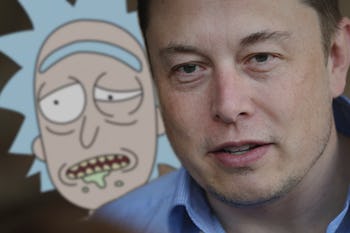 James Grebey
Everyone loves a good foul-mouthed cartoon, even futurist entrepreneurs who want to revolutionize transportation.
On Wednesday morning, Elon Musk, the CEO of Tesla, SpaceX, and The Boring Company, replied to a fan on Twitter asking if he watches Rick and Morty. Musk responded with an affirmative, although the billionaire had a minor critique towards the cult sci-fi series on Adult Swim.
"Yeah," replied Musk on Twitter. "It's kinda disgusting, but my boys and I love it," he wrote, adding an old school smiley face emotion. ":)."
Musk may have his preferences, but the crude humor in Rick and Morty is only part of its charm. Airing on Adult Swim since 2013, the sci-fi series created by Justin Roiland and Dan Harmon (Community) follows the misadventures of a boy named Morty and his grandfather Rick Sanchez, an alcoholic genius who often drags his family into intergalactic conflicts and parallel universes.
Even among other adult-oriented cartoons, Rick and Morty stands out for its nihilistic perspective and exceptionally dark humor. It is maybe not the most appropriate thing for Musk's kids to be watching at their age, but good for them. The world's a tough place, and Rick and Morty, which is currently in the midst of airing its long-anticipated third season, will teach the young Musks some helpful life lessons. Also, the show's real funny.
Rick and Morty is the latest fandom Musk has admitted to being a part of. The Canadian-American inventor is also a fan of HBO's Westworld (his ex-wife Talulah Riley had a supporting role in the show), the online web comic XKCD, the Comedy Central series Nathan for You, and Blizzard's multiplayer shooter Overwatch (Musk mains Soldier 76). Musk is also a sci-fi fan, natch, and plans to name one of SpaceX's first ships to Mars "Heart of Gold" in a homage to Douglas Adams' sci-fi novel, The Hitchhiker's Guide to the Galaxy.
Rick and Morty airs on Sundays at 11:30 p.m. Eastern on Adult Swim.
Oh, hello. You've made it to the end of this story! Congrats! Now tell us how to make Inverse better. Take our user survey and maybe win an Amazon gift card! ⚡️