Elon Musk Just Reviewed the 'Rick and Morty' Season Finale
The Tesla CEO has some strong opinions about it.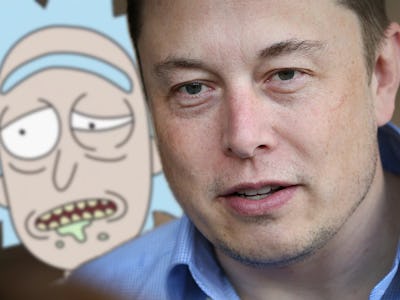 James Grebey
Elon Musk is a big fan of Rick and Morty, so it should come as no surprise that he has some opinions about Sunday's highly-anticipated season finale. The Tesla, Boring Company, and SpaceX CEO may have a lot of projects on his plate, but he still finds time to relax in front of some sci-fi themed comedy. And when Musk weighs in on a show, his fans listen.
The cartoon, which chronicles the adventures of alcoholic scientist Rick Sanchez and his grandson Morty Smith, has captured the imaginations of many for its merging of intergalactic sci-fi action and dark humor. Musk has previously described the show as "kinda disgusting," but admitted that he and his children "love it."
So what did he make of "The Rickchurian Mortydate," the final episode of the third season?
"Final episode was disgustingly good," he said on his Twitter page Thursday.
"Thanks, E," the show's Twitter account responded. "Just riding this out until the singularity hits, you know?"
"The singularity for this level of the simulation is coming soon," Musk said. "I wonder what the levels above us look like. Good chance they are less interesting and deeper levels are better. So far, even our primitive sims are often more entertaining than reality itself."
The episode was a tense climax to a turbulent season for the show. After getting locked up at the end of Season 2, Rick's journey concludes in this season by facing off against the President of the United States while hBeth grapples with an existential crisis. It's essentially a soft reset of the show, with Beth at one point saying outright that things will be more like the first season from here.
In many ways, the episode checked a lot of Musk's boxes. He's a big fan of sci-fi, naming one of his first Mars-bound spaceships "Heart of Gold" in honor of Douglas Adams' The Hitchhiker's Guide to the Galaxy. He's also a big fan of Westworld, with his ex-wife Talulah Riley having a supporting role, and mains Soldier 76 in multiplayer shooter game Overwatch. The man likes his future-bound action.
It's unclear when the fourth season will premiere, but Mr. Poopybutthole appears to confirm at the end of the third season that new episodes won't arrive for a "long time." Based on previous schedules, it could arrive as soon as summer of next year, although it could easily slip further past this projected date.
One fan theory claims, however, that this was not the season finale. The theory points to claims that the season would be 14 episodes long, rather than the final 10, and that some claims from the show's creators don't seem to line up with the episodes shown in the season. Either way, it remains to be seen whether the next episodes can stand up to Musk's standards of "disgustingly good" quality.
If you liked this article, check out this video of an Evil Morty fan theory on Rick and Morty.