How Delft Hyperloop "Rose From the Dead" to Reach the SpaceX Speed Final
" I think we can expect the first commercial hyperloop track within the next five years."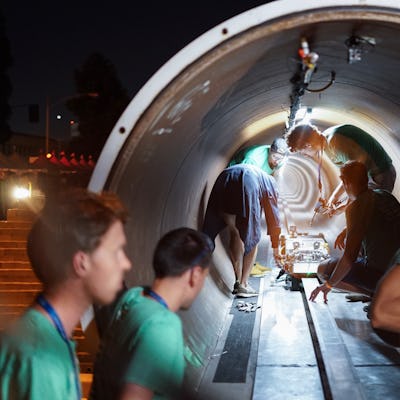 Delft
Though the Delft Hyperloop team set out to Hawthorne, California with record-setting aspirations, a last-minute tech hiccup left them praying for a comeback.
Indeed, when the Netherlands-based student team arrived for the third SpaceX hyperloop pod competition last week, they had high hopes of beating the 240 mph speed record and claiming the top prize. But disaster struck in the form of a critical last-minute controller malfunction. Just as the team looked like it was headed back to the Netherlands empty-handed, they executed a turnaround that one SpaceX advisor described as a "meteoric rise back from the dead." Delft went on to beat 16 other teams, good enough for them to claim second place.
The hyperloop, as you may know, was first outlined by SpaceX CEO Elon Musk in a 2013 white paper proclaiming that the vacuum-sealed tube could whizz pods from LA to San Francisco at speeds of 700 mph. Before July 22, the fastest any group had achieved was Richard Brason-backed Virgin Hyperloop One, which reached 240 mph in December 2017. Delft told Inverse prior to the event that their team could go even faster.
Delft had good reason to be confident. A team originating from the same university won the January 2017 competition on SpaceX's 0.8-mile track, and most of the team went on to found Hardt Hyperloop. Edouard Schneiders, who served as engineer in the first competition team, became team leader of a new Delft Hyperloop group.
That meant that the pressure was on for SpaceX's third event, judged solely on speed. Just three teams of the 18, including Delft, passed the safety checks and received clearance to compete. But serious last-minute technical issues meant it looked like Delft was out of the running, but miraculously, the team scored a top speed of 88 mph.
It wasn't as fast as WARR Hyperloop, which claimed 290 mph, but it was enough to beat EPFL Hyperloop which scored 53 mph. Inverse spoke with Schneiders to find out more about their surprise second place finish and what it's like to compete in Elon Musk's signature hyperloop race.
Congratulations on your second place! How are you feeling?
We're really proud and feel very happy with what we have achieved this competition. We went from being nearly out of the competition to rising from the ashes to reach second place — that, in combination with the perseverance required from the team to achieve this, has made this year's competition an incredible and unbelievable event.
What was it like being in the actual event with Elon Musk and others?
It was really exciting. Everything Elon is involved in is exciting and the people that he draws to him are equally as exciting. The event itself was tense and extremely challenging, but as a team we were able to show what we can do, despite the numerous pitfalls and adversity we faced.
Delft believed it would beat the hyperloop speed record. What happened?
We absolutely aimed for a speed higher than 480 km/h (300 mph). The fact we were able to obtain any speed at all is nothing short of a miracle — let alone place second in the competition.
On Friday, two days prior to the competition, we started experiencing problems with our motor controller. We couldn't get it to work. We knew if we failed to fix it quickly we'd have no chance of passing the tests in time for a final run, which we had to pass. Our last chance was to get the motor controller fixed by Saturday morning. That night, with little sleep and a lot of pressure on the team, a mistake was made unfortunately, and the motherboard that ran our pod short-circuited. Worse, we did not have a spare.
We searched everywhere for another one — asking teams, driving to every shop in the proximity of SpaceX HQ. Being a rare product, the motherboard was nowhere to be found — especially early Saturday morning. By noon on Saturday and having tried everything, we had just about given up and were ready to pack our things and go.
One of team mates suggested she look through all of the boxes we brought with us from Delft. We had nothing to lose, but even if we found a new motherboard, we still had no chance of getting a final run, as it was far too late to fix our motor controller and pass all the tests in time.
Suddenly, a big surprise! We found another motherboard hidden inside a box within another box — and we somehow managed to get it installed and our motor controller working within just a few minutes.
We passed the first test perfectly, which was a run on the outside subtrack (a small piece of track on the SpaceX lot) immediately following. Normally, it can take several attempts for each of these tests. At this point, we felt had already won with this achievement in our own way, because we'd shown that our pod worked. Everything from that point forward was a bonus.
Then, another huge surprise! We were allowed into the vacuum chamber to do the next test, which we also passed in the first attempt. It was unbelievable! We weren't sure what it would mean, but we certainly had nothing to lose. Sure enough, we were then permitted to do a open-air tube run — the very last test. If we were able to do a run of 150 km/h (93 mph) perfectly — without any issues — we were told we might be permitted to do the final run the next day on Sunday, July 22. The whole situation was completely surreal because this never happens. Somehow, against all odds, we set a record time to load our pod and prepare it — and it miraculously worked on the first attempt.
At this point it was very late Saturday night, because for this last test we had to wait a few hours for another team who were having issues loading their pod. Some time later we received the good news — we were given permission to run the final on Sunday.
We were at a large disadvantage for the run itself, however. The other teams (who were not delayed like we were) had already tested to higher speeds and more often — and as a result knew better how their vehicles would perform. For us though, everything after passing that first sub-track test was just a nice bonus because we really had nothing to lose after all of the other challenges we'd faced. For this reason, we decided to take some risks in order to try and achieve a speed above 480 km/h and maybe even win the competition. We figured it was worth a try.
We set up our parameters to achieve this, with little data to base it on. Unfortunately, our motor overheated and as a safety measure switched off when our hyperloop pod reached 142 km/h (88 mph). We achieved this speed in 180 meters (just over 1/10th of a mile). We knew overheating was a possibility, but had only tested our motor in the much cooler climates of the Netherlands, so it had never been a problem previously. Inside the tube, however, it was actually much warmer than the outside temperature in Los Angeles on Sunday, which reached approximately 30 degrees Celsius (86 degrees Fahrenheit).
As a team we're extremely proud we persevered so well through such a stressful situation. It was our goal to win, but we're happy with the outcome. We gave it our best effort in the face of what appeared to be insurmountable odds and overcame a lot of adversity. The entire experience was unbelievable and thrilling, but also extremely nerve-racking at the same time. In the words of our SpaceX advisor, we experienced a "meteoric rise back from the dead."
What does the team plan to do next? Are there plans to spin off?
First, the team members plan to go on a well deserved vacation! Next year there will be another competition, and the team will then prepare itself for another run at the title. We have great field of competitors, which only makes the whole event more fun. We're already looking forward to challenging them again next year.
There are no plans yet to spin off. Some of our team mates will finish their studies and graduate and others will continue on with the team. But, who knows? It might happen once we have all completed our studies and graduated —you never know.
When will I get to ride the hyperloop?
Pretty soon. I think we can expect the first commercial hyperloop track within the next five years, most likely in Asia. India and Saudi Arabia are showing a particular interest in hyperloop as well. However, as infrastructure it will take a while to actually build a complete hyperloop network. For this reason, I think it will probably take another 40 years before we see complex hyperloop networks being completed.