Tesla Model 3: Elon Musk Gives Thumbs Up to This Unique Cooling Idea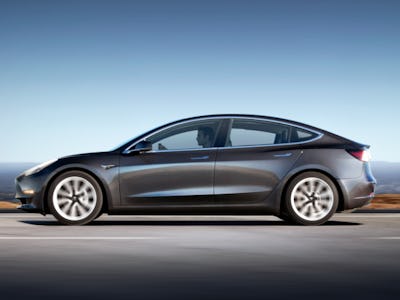 Flickr / nordique
Elon Musk has given his backing to a pretty cool idea. The Tesla CEO responded to a feature request on Monday that would help cool the car seats in the Tesla Model 3, the company's $35,000 electric car. Musk's suggestion that the feature could roll out to vehicles is a sign of the strength of the company's software update approach.
The feature, suggested on Reddit by a user called "jason68030" and shared with Musk by a Twitter user called "teslamodel3fan," would change the default position of the vents when the car first switches on, repositioning the vents after someone enters the car or a driver profile is selected. The user describes how the "bottom seat cushion on the Model 3 […] gets very very hot in the Florida sun, from light through the windshield." This is less of an issue with the rear seats, as "heavy tint on roof glass blocks most of the heat." The seats are far cooler when "putting AC on and directing vents down and center for 3 minutes."
It's not the first time Musk has made feature decisions based on Twitter interactions. In January, Musk agreed with one user to improve the voice control capabilities to "do pretty much anything" via voice commands, similar to rival electric vehicle firm Lucid Motors. In May, Tesla rolled out an update to improve braking performance after a Consumer Reports claim that the car reached a stopping distance of 152 feet at 60 miles per hour, which is far worse than competitors.
Tesla started manufacturing the Model 3 in July 2017, and it's working to move past a sustained rate of 5,000 cars per week to fulfill the backlog of around 400,000 $1,000 reservations. More updates are coming, though: Beyond the AC tweaks, Musk has promised the first features under the "full self-driving" banner, available as a preorder for $3,000 with the car, will start rolling out in August.
Beyond these software changes, Tesla is introducing two new hardware additions for prospective customers. The all-wheel drive add-on is set to debut alongside a performance edition of the vehicle, retailing for $78,000.
The Model 3 has yet to reach many consumers, but it's still improving along the way.