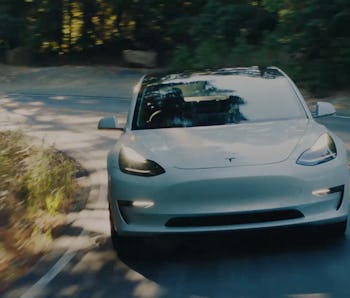 Innovation
How Tesla Model 3 Software Update Makes Good on a Key Elon Musk Promise
Tesla
Elon Musk is fixing one of the Tesla Model 3's biggest problems. On Sunday, the CEO confirmed that an over-the-air software update has started rolling out to the company's vehicles, improving the brake performance. The update comes just five days after Musk was made aware of the issue and promised his 21.9 million Twitter followers that an update was in the works.
It's a fast turnaround for Tesla. Consumer Reports testing discovered a weakness in the braking capabilities of the electric vehicle, which started shipping in July 2017 with a starting price of $35,000. The site's tests found the car could achieve a stopping distance of 152 feet at speeds of 60 miles per hour, which writer Patrick Olsen criticized as "far worse than any contemporary car we've tested." The distance is seven feet further than the Ford F-150 pick-up truck. Car and Driver also noticed an erratic variation in stopping distance, with the third stop taking 196 feet from 70 miles per hour.
Tesla's own tests did not register such a long distance to stop, instead measuring a stopping distance of 133 feet with the standard 18-inch Michelin all-season tire that drops to 126 feet using the multitude of tires currency available. Musk claimed that the Consumer Reports issue stemmed from the calibration algorithm for the anti-lock braking system, used by cars to maintain traction with the road when stopping at speed.
The company's quick response with a software update shows the key role the onboard computer plays in operation. In February, Musk announced plans to roll out another software update to aid crash victims retrieving documents, while gradual software updates have improved performance of the Autopilot semi-autonomous driving mode, the latter of which has led to a smoother driving experience.
Musk also noted that the publication was testing with an early production car. Newer models, Musk explained, have "improved ride comfort, lower wind noise & many other small improvements." More dramatic improvements are expected for buyers of the newly-announced "performance edition" model, set to ship over the coming months with sports brakes and speed-focused extras.
The Model 3 may have entered production nearly a year ago, but it's still improving as Tesla fulfils its backlog of around 400,000 orders.