Elon Musk Reveals Tesla Software Update to Aid Crash Victims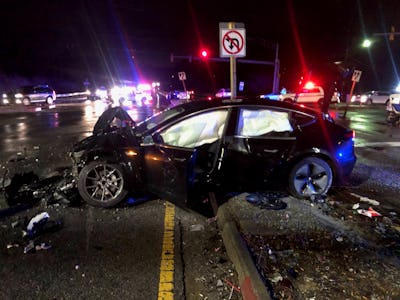 Model_3_Crash_dummy/Imgur 
Tesla is planning a software update that will help crash victims retrieve important documents from the glove box. That's according to CEO Elon Musk, who responded to a story on Friday of a Tesla Model 3 driver who crashed into a stopped car at 60 miles per hour. The driver survived the impact, and the crash could provide key feedback about ways the car could improve.
The owner, who shared images and details of the crash on Reddit, explained how they came away from the crash relatively unharmed:
I read that [Teslas] are one of the safest cars on the road today. They are right! The car is totaled but I am fine, my right ankle is swollen from hitting the gas pedal but i can still walk fine. Had this been a regular ICE vehicle I would be dead or in a lot worse condition. Everyone from the paramedics to the tow truck driver said that people don't usually walk away from this.
However, the owner did have a couple of criticisms. The passenger's arm hit the screen and shattered the tablet's display, leaving her with "a pretty big cut on her arm." The fact that the screen shattered also meant the driver could not operate the glovebox to retrieve insurance details, something Musk claimed the company would fix.
It's perhaps little surprise the driver came away okay, as Tesla claims it's aimed for the highest safety ratings it can for the $35,000 electric vehicle that launched in July 2017. Both the Tesla Model X and Model S have been awarded five-star safety ratings from the National Highway Traffic Safety Administration, and while the Model 3 has not yet been rated, Musk demonstrated its impressive crash test performance at the car's handover last summer.
The crash does not appear to have put the owner off Tesla. The owner claims to have already put in another Model 3 reservation. With production off to a slow start due to issues with third parties, though, it may be a while before the second car arrives.