Elon Musk Promises Tesla Model 3 Software Update to Bring Superior Braking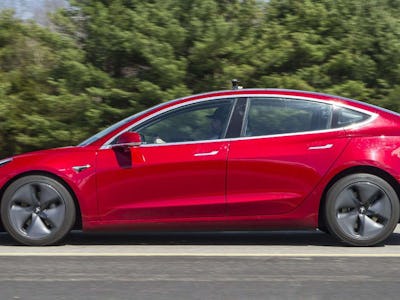 Flickr / nordique
The Tesla Model 3 is going to get better through over-the-air software updates. On Tuesday, CEO Elon Musk revealed plans to improve the braking on its vehicles, after a new report suggested the stopping distance leaves something to be desired. Far from improving braking, though, Musk has promised that "Tesla won't stop until Model 3 has better braking than any remotely comparable car."
It's a bold claim from Musk, who has been working to get the Model 3 into the hands of as many of the 400,000 or so backers as possible. Product review site Consumer Reports released a less-than-stellar evaluation of the $35,000 car on Monday, citing issues with ride quality and braking. In the site's tests, the car achieved a stopping distance of 152 feet at a speed of 60 miles per hour, which writer Patrick Olsen wrote was "far worse than any contemporary car we've tested" and a whole seven feet further than the stopping distance of a Ford F-150 pick-up truck.
Tesla quickly responded to the reports by stating that the company's own tests found a stopping distance of 133 feet with the standard 18-inch Michelin all-season tire. This distance drops to 126 feet using the multitude of tires currency available.
A Tesla spokesperson told Electrek that "stopping distance results are affected by variables such as road surface, weather conditions, tire temperature, brake conditioning, outside temperature, and past driving behavior that may have affected the brake system. Unlike other vehicles, Tesla is uniquely positioned to address more corner cases over time through over-the-air software updates, and it continually does so to improve factors such as stopping distance."
It's unclear when the update may launch, but it appears to be a top priority for Musk. In a follow-up Twitter post, he wrote "even if a physical upgrade is needed to existing fleet, we will make sure all Model 3's having amazing braking ability at no expense to customers."
Musk has been quick to provide updates to the Model 3. In February, he announced a software change to aid crash victims.