Exclusive: Elon Musk's Boring Company Confirms Date for Rides on Godot
The competition winners have been notified!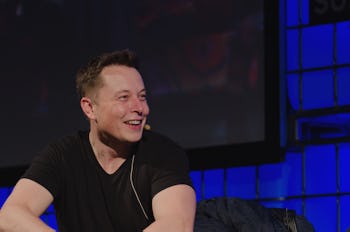 Heisenberg Media
Elon Musk is making good on one of his promises. In December, the founder of tunnel-digging venture the Boring Company promised on Twitter to choose 10 people to ride the digging machine and tour the company's first tunnel. The winners, chosen at random from the people that bought at least one of 50,000 branded baseball caps, have now been told to clear their calendars for a date in the summer.
Sam Teller, director of the office of the CEO at The Boring Company as well as SpaceX and Tesla, confirmed to Inverse on Thursday that the winners have been told to save the date of Sunday, July 22. Winners are expected to receive a formal invitation ahead of the event.
Also happening on July 22 is the third-annual SpaceX hyperloop pod competition, which pits teams of engineering students from universities (as well as engineering enthusiasts) against each other to achieve the top speed for their self-propelled pod.
Musk first started selling hats at $20 each on October 18, and within a month he'd already sold more than 15,000 of them. The hats are part of a fundraising plan for the nascent company, founded at the start of 2017 to combat traffic woes, with Musk claiming that his idea to use merchandising to fund the business came from the movie Spaceballs.
Musk first outlined his plans to reward hat customers on December 14, three days after he announced plans for a flamethrower and 10 days before the last hats sold out:
The 10 winners were notified in January — which included Electrek editor Fred Lambert, who bought five hats to boost his chances. Winners received an email inviting them "to tour The Boring Company's LA tunnel, drive our boring machine, and attend our Hyperloop Competition weekend this summer!" The message noted that the company would not cover transportation and accommodation costs, while also asking winners to bring shoes they are comfortable getting dirty, as well as their purchased hat.
While the email stated that winners would receive specific dates in "late February," two people that claimed to have won the competition told Inverse during the third week of March that they had still not heard anything.
The company's first tunnel, located around 44 feet beneath the ground in Hawthorne, California, will act as a proof-of-concept for the company's operations. The machine used to dig the tunnel, "Godot," moves at a speed 14 times slower than the company's pet snail Gary — and one of the company's big goals is to improve tunnel-digging technology to beat Gary.
Musk released a video earlier this month of the two-mile-long tunnel that, pending regulatory approval, will host free rides to the public "in a few months."
It not lear if the public rides Musk teased earlier this month will come soon after those trips for people who won hats, though. People who want to geek out on the future of transportation wait with bated breath!
The tunnel, which may be back-filled after the tests, will serve as a predecessor to more ambitious projects. The company has already started work on a route from Washington, D.C. to New York City. At a press conference hosted by Musk and Steve Davis, the pair detailed plans to put 16-passengers public transit skates that move at speeds of up to 170 mph, charging people $1 to move through tunnels at least 30 feet below the surface. Plans are also in the works to start construction in 2019 of a "true hyperloop […] faster than a jetliner" between Los Angeles and San Francisco.
It's not the only reward that was offered to hat customers. Musk announced on December 3 that every 5,000th hat sold would receive a second free hat signed by the delivery guy.
The hats were a sensation, but were soon eclipsed in strange Boring Company merch by the "not-a-flamethrower" flamethrowers it briefly sold; those will be specially delivered by Boring Company employees, starting next week to the people who bought them. It remains to be seen if the Boring Company peanut brittle (???) will be as popular as the hats.