iPhone Rumors Indicate Apple's Three New Release Could Be Pricer Than Ever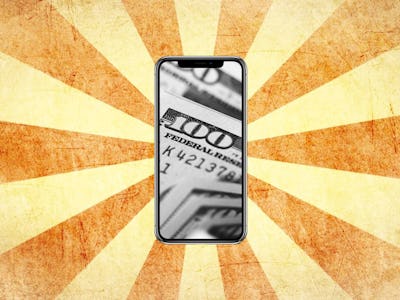 Apple already has a reputation for pricey devices, but as the countdown to the next iPhone release draws to its epic conclusion, a number of analyst predictions indicate an even more expensive iPhone suite for this year, despite the presence of the much-foretold "entry level" model.
Apple's upcoming handset trio has been estimated to be marginally more expensive compared to last year's releases. According to a tweet from smartphone leaker Ben Geskin, the expected mid-tier 5.8-inch OLED "iPhone XS" will cost $100 more than 2017's middle-of-the-road iPhone 8 Plus. But the biggest increases will come from the expected 512GB variants of the 5.8 and 6.5-inch OLED "iPhone XS" and "XS Max" that might be shipped with record-high price tags.
These two models have been said to come with all the bells and whistles of an iPhone X — plus a new 7-nanometer A12 chip designed to increase computing power and reduce energy demands, with more storage space than any iPhone before them. But this will come at a cost. The beefiest XS and XS Max variants could cost $1,199 and $1,299 respectively. If this proves true they'll be Apple's most expensive iPhones of all time, edging out the 256GB iPhone X, which goes for $1,149.
Why the "Budget iPhone" Isn't Actually a Bargain
Even the much touted budget iPhone isn't all that much of a bargain. Sure the $699 XC might seem cheap next to these eye-watering prices (yet another example of Apple's ingenious use of price anchoring), but it's still a big step up in price from its last entry level model, the iPhone SE. That iPhone launched at $399 in 2016, and prioritized affordability over specs.
As with back then, this year's expected XS and XS Max will be geared toward smartphone power-users, while the XC will be marketed as a cheaper iPhone X, and likely ship later in the year than its fancier cousins. In terms of specs, the XC (or XR) will cut costs with its cheaper LCD screen and a cheaper aluminum backing.
So what's all that extra cash getting you, really? The higher-end phones will have the same amount of storage as some Microsoft and Dell laptops. That kind of digital real-estate will make routine clearing of photos and videos a thing of the past. And the A12 chip would also provide blazing fast performance at reduced battery demand, making these handsets an option for people that need laptop capabilities on the go.
Geskin's is hardly the only pricey prediction. A separate estimate by Bank of America Merrill Lynch stated that these marquee features might come at even loftier prices. Analyst Wamsi Mohan expects the XS and XS Max will start at $999 and $1049 respectively, while the cheaper 6.1-inch LCD "iPhone XC" will have a base price of $799. Mohan, who specializes in tech sector analysis, states this jump in price will be driven by the increase of overall screen size across this year's three models.
"iPhone pricing is likely higher than embedded in consensus," he wrote in a note to investors reported by CNBC. "Although investor expectations are for some moderation in pricing for 2019 models, we expect Apple to continue to price the iPhones for value, which should drive upside to consensus estimates."
Last year's cheapest release was the 4.7-inch 64GB iPhone 8, which currently goes for $699. While the priciest 2017 base model was the 5.8-inch 64GB iPhone X clocking in at $999, potentially this Apple cycle could be among the most expensive ever.
So brace your wallets, it seems like even this year's heralded budget iPhone will be costly.