iPhone X Sales Might Make Future High-End Smartphones More Expensive Than Ever 
"They've created a price umbrella."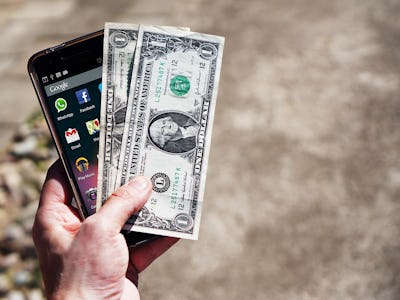 When Apple rolled out the iPhone X at roughly $1,000 a pop, people balked at first. The smartphone market was entering maturity, are people really so enamored of their Apple devices that they'll shell out that much, even as competitors get better at making alternatives at lower price points? It seems that increasingly, the answer is yes.
Indeed, by grooming consumers to spending upwards of $1,000 for a new phone, the iPhone X's pricing strategy may have cemented these kinds of prices into the wider smartphone industry, Apple analyst Philip Elmer-DeWitt tells Inverse.
Initially, Elmer-DeWitt said he thought these kinds of prices were outlandish, but paradoxically Apple's iPhone X strategy may have ended up doing its competitors a solid. Essentially, Apple raised the ceiling for what a luxury smartphone could cost, which allows companies like Samsung and Google to market their phones as somewhat oxymoronic "affordable luxury" devices.
"By selling configurations for a lot more than $1,000 they've done their competitors a favor," says Elmer-DeWitt. "They've created a price umbrella under which their competitors can enter the high end of the market as a cheaper luxury device that's nearly as good as Apple's. Or so they'll say."
Many of Apple's rivals in the smartphone market have raised their prices considerably in the last two years, according to a Monday report from CNET, including Samsung, Huawei, and OnePlus. The biggest jump has been in the cost of the OnePlus, which has soared by almost a third.
How High Can Smartphone Prices Go?
During Apple's second-quarter earnings call, CEO Tim Cook stated that the iPhone X was the "top-selling iPhone since the launch," putting to rest "notions that" the pricing strategy was too aggressive. The company's current flagship iPhone was released alongside the 8 and the 8 Plus, which were around $200 cheaper.
For more evidence that Apple's smartphone strategy is sticking around, look no further than its rival Samsung.
The 2016 Galaxy S7 Edge, for example, was initially released for $779.99, while both the Galaxy S8 Plus and S9 Plus have been upped to $850. Rumors regarding the company's upcoming Galaxy Note 9 allege that the company's next-generation phone-tablet hybrid could start as high as $1,055.
However, this doesn't mean that all Apple and Android phones will cost $1,000 in the future. The majority of iPhone rumors claim that Apple will release three new handsets priced at $699, $899, and $999. This would provide a top-of-the-line option while offering cost-conscious consumers an option that might be cheaper than the current iPhone 8.
Which is to say that it's really access to the latest and the best smartphones that's getting more expensive, as opposed to the actual smartphones themselves. And if you're thinking of shelling out for a new Apple phone, here's our guide to the best times of the year to buy.