Samsung Leaks Confirm Features and Specs of Upcoming Galaxy Note 9
If you take a lot of pictures, this could be a game-changer.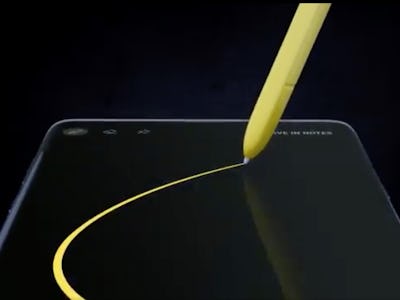 Samsung's August 9 announcement of the Galaxy Note 9 is a week away but smartphone connoisseurs already have a good idea of what it will look like. Images of the phone-tablet hybrid have surfaced from a number of leaks that seem to vindicate the most common existing rumors.
The source of the leak? Samsung itself. On Thursday evening it would appear that Samsung accidentally uploaded a pre-order banner of the phone onto its website along with a video advertisement on its Samsung New Zealand YouTube channel. Both ads revealed features and specs that the device, that will also launch with its S-Pen stylus.
While Samsung has since taken down both the banner and the video, leakers, journalists, and the handset heads of the internet have re-uploaded them onto Twitter, naturally. Trying to access the pre-order site will result in a "The page you've requested for is not available," but a quick scan online is all you need to gather all the juicy details.
Galaxy Note 9 Leaks: Blue Chassis with Yellow S-Pen
Both leaks show off the phone's dazzling metallic blue color and bright yellow stylus. This confirms at least one color option for the device and bolsters a tweet by smartphone leaker Evan Blass' that claimed the phone would come in black, blue and brown.
Blass has a pretty ample resume of accurate leaks, including hinting at the Samsung Galaxy S7 before its 2016 announcement. It seems that he's done it again.
Galaxy Note 9 Leaks: Massive Storage Space
Aside from the color, the leaked video revealed that users could have up to 1-terabyte of storage space for photos, videos, and apps. Upon its release, customers will be able to get their hands on a 512GB version of the Note 9 that will be able to support an additional 512GB microSD card.
That clocks in at exactly 1.02TB of storage space, effectively doubling the Note 8's capability. There are currently laptops on the market with that kind of storage space, so consider deleting photos to clear up storage a thing of the past.
Galaxy Note 9 Leaks: But the Price Tag Could Be Beefy
While these two leaks did not hint at a price, rumored price listings from Malaysia suggest it could cost just as much as a souped-up iPhone X.
According to a BRG report, a starter, 128GB Note 9 could cost $1,055 while a top-of-the-line 512GB model could be $1,250.
All that space could come at a price.